Product Announcement from ROHM Semiconductor, USA LLC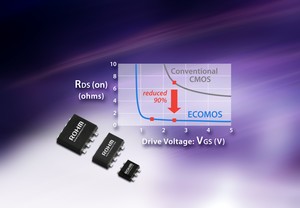 Advanced, proprietary process yields dramatic improvement in on-resistance at very low gate drive voltage; small footprint, low-profile packages require less board space
The new ECOMOS series of n-channel and p-channel MOSFETs from ROHM Semiconductor are designed to meet the prescribed operation at lower gate drive voltages that emerging generations of portable electronic devices require. ROHM's advanced proprietary processing has produced devices that exhibit RDS(ON) values as much as 90% lower than comparable devices when operated at ultra-low 1.5V or 1.2V gate drive (VGS) voltages. This improved electrical performance combined with ROHM's unique packaging design provides both high-efficiency, excellent power dissipation and small device footprint.
The new ECOMOS 1.5V products are offered in three package sizes depending on maximum power dissipation (PD) in configurations that include single p-channel or n-channel devices (with or without Schottky barrier diode) and complex, multi-die dual p-channel or n-channel devices. The three package sizes with salient specifications* are:
WEMT6 : 1.8x1.6x0.8 mm (1613), PD(MAX) = 0.8 W
TSST8: 3.0x1.9x0.8 mm (3016), PD(MAX) = 1.25 W
TSMT8: 3.0x2.8x0.8 mm (3024), PD(MAX) = 1.5 W
(*see specifications and a compete list of available packages)
According to Kevin Turchin, Field Application Engineering Manager, "ROHM Semiconductor is a leader in semiconductor fabrication technology. We design and manufacture our own equipment and processes. The advanced fabrication techniques we developed for ECOMOS™ have resulted in dramatic improvement in RDS(ON), particularly when low gate drive voltages are required. This process has also yielded parts with reduced die size making it possible to offer devices in smaller, lower-profile packages."
You have successfully added from to your part list.
---