LAPIS Semiconductor Low Power Microcontrollers
Product Announcement from ROHM Semiconductor USA, LLC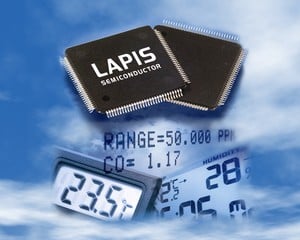 LAPIS offers multiple families of Low Power Microcontrollers. These low power consuming, highly code efficient, RISC core microcontrollers range from very small footprint devices that require no external components for timing or power management, to devices that can drive up to 1536 LCD segments of a complex display.These devices are all ideal for products that need long battery life.
Key Features
•Low Supply Voltage (as low as 1.1V)
• Tone/Speech/Audio generation with Amplifier
• I2C, SPI and UART
• Analog Input ADC
• High Accuracy Temp and Humidity Measuring ADC
• PWM for LED and Motor Control
• Internal Timing References
• Strong Performance in Noisy Environments
• LCD Controllers with Bias Voltage Generation
• Clock dividers for CPU and Peripherals
• Hardware Development Kits and Reference Boards
• Common Code Development Tools (C, Assembly, Compiler, Debugger, Simulator)
Applications
• Watches
• Security Token
• White Goods and Small Appliances
• Motor and Motion Control
• Health and Fitness Monitors
• Calculators
• Bike Computers
• Weather Stations
• Thermostats and Environmental Controls
• LED Lighting Control
• Internet of Things
• Industrial Control
You have successfully added from to your part list.
---