Product Announcement from ROHM Semiconductor, USA LLC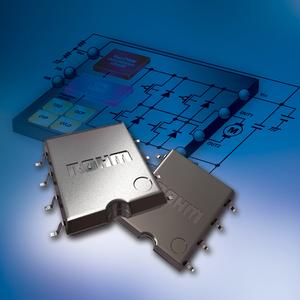 SAN DIEGO, Calif. ─ September 15, 2008 ─ ROHM Semiconductor formally introduces its complete line of H-bridge driver ICs offering designers a simple upgrade path to pulse-width modulation (PWM) speed control using either analog or digital inputs. The new BD62xx Series provides both a TTL-compatible interface to an external MCU as well as an internal VREF-PWM conversion circuit allowing implementation of energy-saving PWM control from an analog voltage input. The product line is offered in three maximum operating voltage classes (7 V, 18 V and 36 V) with current ratings in each class of 0.5 A, 1.0 A and 2.0 A to cover applications ranging from portable electronics to automotive, appliance and medical devices.
BiCMOS topology is used to optimize performance and minimize power consumption. The P-channel / N- channel output configuration eliminates the need for an internal charge pump and external capacitors to operate the high-side switch. Internal shut-down circuitry reduces standby current to less than 1 µA - particularly important in portable designs.
Pin-compatible packaging between the three voltage classes at each current level speeds design implementation while allowing for power optimization in lower voltage applications. Two-channel versions offered at each voltage level are packaged with symmetrical pin-outs to simplify design and manufacturing. In addition, the new family of ROHM PWM output H-bridge driver ICs are direct drop-in replacements for ROHM's legacy line of bipolor transistor output driver ICs.
All BD62xx H-bridge driver ICs include a complete suite of internal protection circuits including over-voltage protection (OVP), under-voltage lock-out (UVLO), over-current protection (OCP) and high temperature shutdown (TSD). Overlap (shoot-through) protection to prevent high currents during motor reversal or breaking is also built in. In addition, the devices are designed to withstand 4 kV ESD.
All products in the series are packaged in low-profile surface-mount with maximum height ranging from 1.15 mm (SSOP) to 2.2 mm (HRP7). All devices are specified for -40 to 85 °C operation.
For complete details, visit www.rohmsemiconductor.com/h-bridge.html
Price: US$ 0.80 (1-channel, 7 V) to 2.60 (2-channel, 36V) (OEM quantities)
Availability: Now
Delivery: 10-12 weeks ARO
You have successfully added from to your part list.
---