Product Announcement from ROHM Semiconductor, USA LLC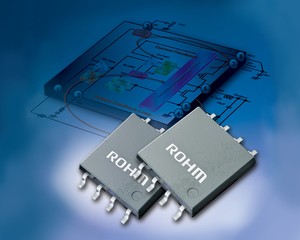 BD91x Series step-down regulators use SLLMT technology to increase efficiency by 100%-200% compared to conventional PWM controllers over low- to full-load conditions
ROHM Semiconductor announces the BD91x Series of step-down switching regulators that combine ROHM's propriety SLLM™ (Simple Light Load Mode) technology with current-mode PWM control to provide exceptional load regulation and high efficiency at both low- and
The SLLM technique enables BD91x series regulators to seamlessly transfer to / from conventional PWM control depending on load conditions. This dual mode of operation improves the efficiency by 100% to 200% over standard PWM controllers that typically ignore the low-power operating regime. In addition, current mode feedback assures fast response to load changes and prevents operational performance problems-or failure- in voltage-sensitive devices, especially in circuits with supply voltages of 1.8V or less. Variable point-of-load (POL) requirements are found in a wide variety of applications including set top boxes, digital tuners, LCD displays, portable digital players, wireless LAN modules, personal computers, disk drives, microprocessor power supplies, GPS navigation systems and cell phones. Benefits of the BD91x Series include:
Single and dual channel outputs
Output current ratings up to 4.0A
High Efficiency: Dual-mode (SLLM / PWM) operation assures efficiency over the full range of load conditions; exhibits virtually zero current in stand-by mode
Fixed and variable output voltage (set by resistor selection)
High Accuracy: Provides output voltage accuracy of ±1.5 / ±2.0%
RoHS Compliant
Few external components: The regulators incorporate ROHM's P-channel / N- channel CMOS power output to provide both low on-resistance and low switching losses, while reducing the number and size of external components
High Performance: The quick response of the current sense / feedback loop to any change in load current reduces the voltage variation by as much as 50%
High Reliability: A full suite of built-in protection circuits including over-current, and over-temperature protection, plus under-voltage lock-out
Compact Packaging: Small wafer-level packages and small form factor packages optimize pc-board utilization
"The BD91x regulators represent another series of new devices from ROHM Semiconductor that address the emerging needs for 'green' product designs," said Kevin Turchin, ROHM Semiconductor Field Application Engineering Manager. "With SLLM technology, system designers can provide longer, problem-free operation of portable devices as well as reduced energy consumption."
You have successfully added from to your part list.
---