Rapid IoT prototyping with the Intel® Joule™ at RS
Product Announcement from RS Components, Ltd.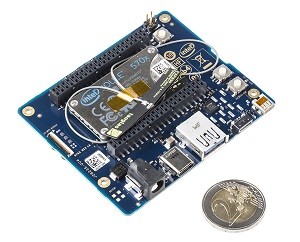 The small and mighty Intel® Joule™ compute modules and development kits are now available at RS, targeting inventors, developers and OEMs creating IoT applications.
The high-performance, multi-purpose platform can be used for a whole range of applications, including virtual reality, computer vision, drones, robotics and industrial IoT, as well as for the latest, most advanced applications requiring high-end edge computing – think social robots, industrial safety glasses using augmented reality or custom carrier boards for specific applications.
A high-end compute system on module (SOM), the Intel® Joule™ platform offers 4K video capture and display with Intel HD graphics, and boasts a large memory in a mini, low power package. Developers benefit from a choice of operating system as well as off-the-shelf libraries and sensors thanks to the vast hardware and software ecosystem of the platform. This means developers can rapidly prototype and get to the manufacturing stage more quickly and at a lower cost.
Intel® Joule™ offers a low-cost and scalable solution, based on the Intel® Atom™ processor that takes designs from initial concept to full-scale production.
Visit RS today to discover more.
---