Product Announcement from R. S. Hughes Company, Inc.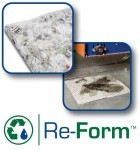 Green to produce. Green in use. The production process used for Re-Form™ sorbent material takes less away from our environment. Re-Form sorbents is made from a minimum of 70% recycled newsprint and other cellulose…unlike oil-based polypropylene sorbents. And, the better absorbency of Re-Form means you'll have less sorbent material to dispose of.
Better Absorbency. Up To 50% More AbsorbentThe unique construction of Re-Form™ sorbent material offers superior absorbency. In fact, Re-Form sorbents have been tested to be 25-50% more absorbent than oil-based polypropylene sorbents, so you'll use less product to get the job done. Less waste makes this sorbent both green and lean!
R.S. Hughes - Global Distributor of Industrial Products
No minimum purchase
There is no minimum purchase with R.S. Hughes Co., so you get precisely what you want whether it's thousands of uncorded earplugs or three tubes of silicone.
Ordering options
On the web, right here at RSHughes.com
By phone (1-877-RSHUGHES), and talk in person to one of our sales representatives.
Online through email or EDI.
Via faxed Purchase Order
In person at any one of our warehouse locations
Credit card or instant credit
We can accept your order with a credit card or establish instant credit with your first purchase when you create an account.
You have successfully added from to your part list.
---