Type 8485 and 7485 Grounding Monitoring Devices
Product Announcement from R. STAHL, Inc.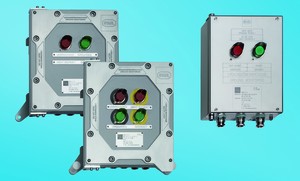 When handling combustible liquids or powders, operators are faced with an invisible, and often underrated risk: electrostatic discharges. These potential spark sources can build up in tanks and vessels where unloading hazardous substances such as ethanol, biofuel, petroleum, chemicals, plastics, and other combustible materials are performed. In order to prevent this, and to enable the safe handling of hazardous substances, R. STAHL offers the new type 8485 and type 7485 grounding monitoring devices. These ATEX certified units ensure the safe elimination of electrostatic charges during the loading and unloading of tank vehicles such as tank trucks or tank wagons.
Unlike simple earthing cables, this solution continuously monitors the connection between the grounding monitoring device and the grounded object. Impaired or broken connections due to cable damages or operating errors are detected and signaled to the operator via a red indicator lamp. Additionally, two relay contacts allow for an automatic interruption of the loading process. Furthermore, the new grounding devices also enable users to differentiate between the connection of the clamp with tank trucks and the connection with the loading equipment, thus considerably reducing the risk of operator errors.
The grounding monitoring devices are suitable for outdoor installation and can even be used in extreme climates (-50 °C to +60 °C). Both types are equipped with an IP65 housing. 8485 devices are designed for use in zone 1, while the 7485 series has been optimized for installation in zone 2 as well as zone 21 and 22 hazardous dust atmospheres. A two-channel version, i.e. a model with two earthing clamps, allows for efficient monitoring of combined loading units, e.g. trains and trucks. In that case, the monitoring mode can be individually adapted to the application for each of the two clamps. In addition to the corrosion-resistant earthing clamp with good contact pressure, the solution includes a robust, oil-resistant cable. The clamps are available with simple cables, spiral cables or an automatic retractor suitable for use in zone 1.
---