New Hazardous Location Circuit Breaker Panel
Product Announcement from R. STAHL, Inc.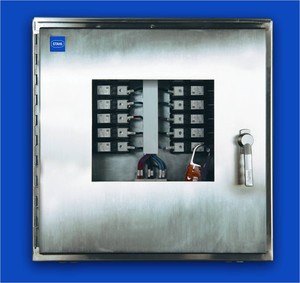 Houston, Texas – R. STAHL Inc, a global leader in electrical equipment for hazardous location products, has introduced its new technology for Class I, Division 2 circuit breaker panels.
"We're very excited about introducing the BROZ™ circuit breaker panels." said Craig Yoss, R. STAHL Director of Marketing and Business Development. "Through our technology of manufacturing explosion protected breakers, we've removed the method of protection away from the explosion proof enclosure itself, and directly to the breaker. This eliminates the need for the heavy bolted solutions that had been traditionally used. This significantly reduces the weight, installation and maintenance cost, as well as the potential for safety hazards. These solutions are ideal for the oil & gas industry. "
BROZ™ circuit breaker panels are made from 316 stainless steel enclosures. The countless bolts associated with heavy cast aluminum enclosures are reduced with this new technology to a quick turn handle. The circuit breakers are factory sealed, so no external seals are required. Because the enclosure is stainless steel, it not only protects the system in a corrosive environment, entries can be simply punched into the enclosure. It has spacious room for wiring, and everything is finger safe. The standard buss bar solution for panels over 24 circuits makes maintenance clean and easy.
Contact:
R. STAHL
9001 Knight Road
Houston, TX 77054
Phone: (800) 782-4357
Fax: (713) 797-0105
E-Mail: sales@rstahl.com
Web: www.rstahl.com
You have successfully added from to your part list.

Play New Hazardous Location Circuit Breaker Panel Video
---