Heavy Duty Kingpinless Casters - 76 Series
Product Announcement from RWM Casters Company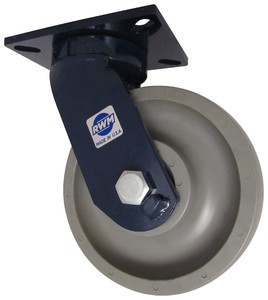 RWM Casters 76 Series industrial casters feature the patented Kingpinless™ caster design. This is the design that RWM patented, and that has proven to be the best solution for demanding heavy duty applications. This is the caster design that all others are copying because it is simply unmatched in extending service life, reducing all possible causes for caster failure.
The 76 Series offers up to 7000 lb. capacity and is available with a wide variety of wheels in 2.5" and 3" width. This caster is designed with beefier legs and extended leads making it an excellent option for towing operation in automotive assembly plants, tire manufacturing and heavy duty industrial applications demanding a superior heavy duty product. All swivel sections are supplied with a lubrication fitting for field maintenance. The 76 series is case hardened for extended service life and continued performance. It will not crack like through hardened or induction hardened construction provided by other caster manufacturers. Our 76 series industrial casters are proudly made in the USA! Custom caster designs and solutions are available. Free 2-D/3-D CAD Model downloads are available direct from the RWM Casters website. Contact RWM Casters Company today for custom caster design innovations at 1-800-634-7704.
http://www.rwmcasters.com/industrial_casters/76_series_casters.cfm
76 Series Caster Features:
Raceway Design: Patented Kingpinless™ single ball bearing precision machined raceway hardened to 53 Rockwell C minimum. Swivel section features 3" diameter raceway with 1/2" ball bearings. The notched raceway is standard.
Capacity: 7,000 lbs.
Leg Thickness: 3/8"
Axle: 3/4" bolt with lock or slotted nut as required
Finish: Laguna Blue paint
Wheels: Wheels are available with either a 1" roller bearing which rotates on a hardened and ground spanner bushing or 3/4" tapered bearings that rotate on the axle. All wheels are equipped with a lubrication fitting.
Mounting Plate Size: 5-1/4" x 7-1/4" x 3/8"
Bolt Hole Spacing: 3-3/8" x 5-1/4", slotted to 4-1/8" x 6-1/8"
Mounting Bolt Diameter: 1/2"
Options:
CWB: Cam Wheel Brake
DSL: Demountable Swivel Lock
HT: High Temperature Lubrication
LT: Low Temperature Lubrication
PCWB: Poly Cam Wheel Brake
SL: Swivel Lock
SR: Sealed Swivel Raceway
ZP: Zinc Plated
FICWB: Field Installable Cam Wheel Brake (FICWB Brake is for swivel casters only)
HTP:High Temperature Paint
---