Premium Polyurethane Wheels = Longer Service Life!
Product Announcement from RWM Casters Company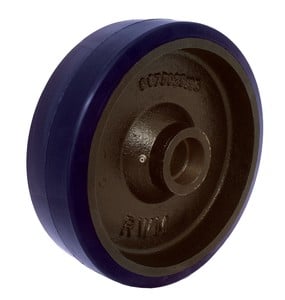 Polyurethane tread wheels are an excellent way to provide a layer of durable, long lasting, shock absorbing cushion between your valuable products and the floor. This reduces noise, improves rollability and carries heavy loads at speed. Available in a wide array of durometers and thickness these wheels can dominate in almost any application. With wheels designed for high impact shock absorbing, noise reduction, rollability, high speeds and extreme durability, RWM Casters is pleased to offer the best Polyurethane lineup in the industry. RWM Casters uses premium PTMEG polyurethane which provides an added safety cushion vs. our competitors PPG wheel material.
Polyurethane wheel solutions offered by RWM Casters Company consist of:
(MU) Solid Urethane Wheels
(UI) Urethane on Iron Wheels
(UA) Urethane on Aluminum Wheels
(UP) Urethane on Polypropylene Wheels
(UO) Omega Wheels - Shock absorbing Poly on Iron Wheels
(UW) Whisper Wheels- Heavy Duty Urethane on Iron Wheels
(UT) Ultra Thick Urethane on Iron Wheels
(UI-INF) Infinity Vulkollan on Iron Wheels
Additional information on these wheels can be found at:
http://www.rwmcasters.com/caster_wheels/polyurethane_wheels.cfm
Standard wheel durometer is 92-95A on most wheels, however multiple durometers from 80A to 70D are available.
Polyurethane tread wheels are excellent in the following applications:
Heavy Duty Manufacturing
Food Service
Medical
Automotive
Aerospace
Tire Manufacturing
Mobile home manufacturing
Maintenance & support equipment
Assembly line and towline duty
RWM Casters has the knowledge, expertise and in house testing capabilities to pinpoint the right wheel for any application large or small, standard or custom. Contact our experienced customer service staff at 800-634-7704 to get things rolling!
Check out this quick & simple guide for downloading 2-D & 3-D CAD from the www.rwmcasters.com website. RWM has over 30,000 models for direct, easy download right off our website. Need a caster design for a new project? Check it out. Don't see what you're looking for? Give us a call and we can create a model or build completely new and custom designs.
RWM Casters is proud to be known as the original inventor of Kingpinless™ Casters, the most emulated casters in the industry today. Our heavy duty Kingpinless™ Casters are the recognized best solution for demanding industrial caster and wheel applications.
In addition to our Kingpinless™ caster design, several of our new products have become industry standards by which all others are measured. RWM Casters new product innovations offer major improvements in performance and will maximize value for your company, such as our improved urethane wheel compounds that withstand the new ergonomic, quality and value issues being demanded for the aerospace caster, automotive caster, tire manufacturing and heavy-duty industrial material handling markets.
For over 75 years, RWM Casters has been committed to providing the highest quality industrial caster wheel and non-powered material handling products, at competitive pricing with the shortest lead times in the industry. In addition to our standard product line, we offer custom casters, wheel design and solutions to meet your specific caster requirements.
Various caster, wheel, material handling products are available as part of our inventory specials. Due to ever changing demands in the caster industry, we are offering these brand new, never been used products at a fraction of their original price. This is on a first come first serve basis, once our inventory is depleted these fantastic prices will disappear. Please contact customer service at 1-800-634-7704 for information on these products and exact quantities available. Be sure and check back regularly as we continue to update with new inventory specials.
---