Premium Polyurethane Wheels = Longer Service Life!
Product Announcement from RWM Casters Company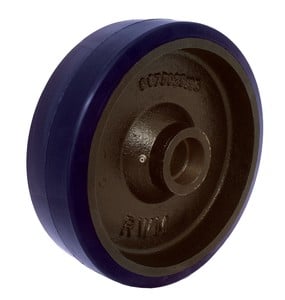 Polyurethane tread wheels are an excellent way to provide a layer of durable, long lasting, shock absorbing cushion between your valuable products and the floor. This reduces noise, improves rollability and carries heavy loads at speed. Available in a wide array of durometers and thickness these wheels can dominate in almost any application. With wheels designed for high impact shock absorbing, noise reduction, rollability, high speeds and extreme durability, RWM Casters is pleased to offer the best Polyurethane lineup in the industry. RWM Casters uses premium PTMEG polyurethane which provides an added safety cushion vs. our competitors PPG wheel material.
Polyurethane wheel solutions offered by RWM Casters Company consist of:
(MU) Solid Urethane Wheels
(UI) Urethane on Iron Wheels
(UA) Urethane on Aluminum Wheels
(UP) Urethane on Polypropylene Wheels
(UO) Omega Wheels - Shock absorbing Poly on Iron Wheels
(UW) Whisper Wheels- Heavy Duty Urethane on Iron Wheels
(UT) Ultra Thick Urethane on Iron Wheels
(UI-INF) Infinity Vulkollan on Iron Wheels
Additional information on these wheels can be found at:
http://www.rwmcasters.com/caster_wheels/polyurethane_wheels.cfm
Standard wheel durometer is 92-95A on most wheels, however multiple durometers from 80A to 70D are available.
Polyurethane tread wheels are excellent in the following applications:
Heavy Duty Manufacturing
Food Service
Medical
Automotive
Aerospace
Tire Manufacturing
Mobile home manufacturing
Maintenance & support equipment
Assembly line and towline duty
RWM Casters has the knowledge, expertise and in house testing capabilities to pinpoint the right wheel for any application large or small, standard or custom. Contact our experienced customer service staff at 800-634-7704 to get things rolling!
To see a list of some of our other products and what RWM Casters Company has to offer, click on the links below!
You have successfully added from to your part list.
---