Stainless Casters provide long term durability
Product Announcement from RWM Casters Company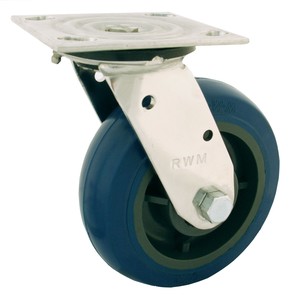 RWM Casters Company provides ultra corrosion resistant stainless steel product specifically for the medical and industrial market. In demanding application environments where typical zinc plated or painted steel products just don't get the job done our stainless steel line of casters from 350lbs to 2,500lbs in capacity can handle the task. Electropolishing and swivel seals are standard on our S45 series and are also available on our heavier duty kingpinless S65 and S75 series as options.
Our performance tested and proven kingpinless caster design incorporated in the 304 Stainless steel 65 and 75 series casters ensures the strongest, most performance driven product on the market. Allow us to work with you on your next material handling application and we are certain to prove ourselves as a high quality, customer driven and value added supplier.
Stainless casters are ideal in medical environments with additional applications in autoclaves, animal care and food processing.
Check out this quick & simple guide for downloading 2-D & 3-D CAD from the www.rwmcasters.com website. RWM has over 30,000 models for direct, easy download right off our website. Need a caster design for a new project? Check it out. Don't see what you're looking for? Give us a call and we can create a model or build completely new and custom designs.
RWM Casters is proud to be known as the original inventor of Kingpinless™ Casters, the most emulated casters in the industry today. Our heavy duty Kingpinless™ Casters are the recognized best solution for demanding industrial caster and wheel applications.
In addition to our Kingpinless™ caster design, several of our new products have become industry standards by which all others are measured. RWM Casters new product innovations offer major improvements in performance and will maximize value for your company, such as our improved urethane wheel compounds that withstand the new ergonomic, quality and value issues being demanded for the aerospace caster, automotive caster, tire manufacturing and heavy-duty industrial material handling markets.
For over 75 years, RWM Casters has been committed to providing the highest quality industrial caster wheel and non-powered material handling products, at competitive pricing with the shortest lead times in the industry. In addition to our standard product line, we offer custom casters, wheel design and solutions to meet your specific caster requirements.
Various caster, wheel, material handling products are available as part of our inventory specials. Due to ever changing demands in the caster industry, we are offering these brand new, never been used products at a fraction of their original price. This is on a first come first serve basis, once our inventory is depleted these fantastic prices will disappear. Please contact customer service at 1-800-634-7704 for information on these products and exact quantities available. Be sure and check back regularly as we continue to update with new inventory specials.
---