Totally Maintenance Free Casters, Made in the USA
Product Announcement from RWM Casters Company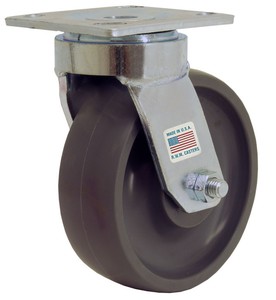 RWM Casters, the originator of the Kingpinless caster, has engineered this totally maintenance free caster that offers an ultra quiet precision swivel section that is sealed for life.
Available with a variety of top plates, diameters, leg lengths, wheel and brake options, the Maintenance Free Freedom Series is the perfect solution for almost any caster application including:
Dollies
Waste Disposal Trucks
Warehouse Trucks
Floor Trucks
Shop Carts
Automotive
Assembly Lines
Retail
Towline Applications
Hotel/Motel/Casino Applications
Beer Applications
Beverage Applications
Vending Applications
Medical Applications
View complete specifications and download 2D and 3D CAD models on our website here: http://www.rwmcasters.com/industrial_casters/freedom_48_series.cfm.
Our Freedom 48 Series features include:
A thick top plate to increase the versatility and extend the caster life due to enhanced protection of the swivel section
Our exclusive swivel section consisting of a heavy duty sealed precision ball bearing that is sealed for life at the factory making it totally maintenance free. It is capable of all radial and thrust loads and provides ultra quiet operation
Eighteen (18) options of our finely crafted wheels that are designed for maximum performance for a variety of applications in any industry
Our distinctive kingpin that is larger in diameter and hydraulically staked to be stronger than any comparable load rated caster in the industry. This eliminates any possibility of kingpin stretch.
Welded rivet to reduce vibration rattle
Precision ball bearings that are totally sealed to protect against the damaging effects of water, dirt, grit or chemicals
Zinc plating to provide a sleek appearance as well as long-lasting corrosion resistance
For a flyer about the Freedom 48 Series Caster click on this link: http://www.rwmcasters.com/literature/Freedom48Series.pdf.
Check out this quick & simple guide for downloading 2-D & 3-D CAD from the www.rwmcasters.com website. RWM has over 30,000 models for direct, easy download right off our website. Need a caster design for a new project? Check it out. Don't see what you're looking for? Give us a call and we can create a model or build completely new and custom designs.
RWM Casters is proud to be known as the original inventor of Kingpinless™ Casters, the most emulated casters in the industry today. Our heavy duty Kingpinless™ Casters are the recognized best solution for demanding industrial caster and wheel applications.
In addition to our Kingpinless™ caster design, several of our new products have become industry standards by which all others are measured. RWM Casters new product innovations offer major improvements in performance and will maximize value for your company, such as our improved urethane wheel compounds that withstand the new ergonomic, quality and value issues being demanded for the aerospace caster, automotive caster, tire manufacturing and heavy-duty industrial material handling markets.
For over 75 years, RWM Casters has been committed to providing the highest quality industrial caster wheel and non-powered material handling products, at competitive pricing with the shortest lead times in the industry. In addition to our standard product line, we offer custom casters, wheel design and solutions to meet your specific caster requirements.
Various caster, wheel, material handling products are available as part of our inventory specials. Due to ever changing demands in the caster industry, we are offering these brand new, never been used products at a fraction of their original price. This is on a first come first serve basis, once our inventory is depleted these fantastic prices will disappear. Please contact customer service at 1-800-634-7704 for information on these products and exact quantities available. Be sure and check back regularly as we continue to update with new inventory specials.
---