Waste Management Casters That Make Sense
Product Announcement from RWM Casters Company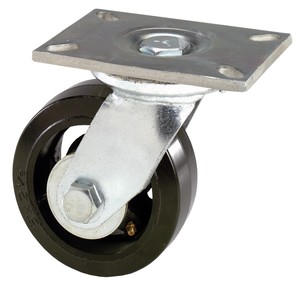 Put your mind at ease with the use of RWM's patented kingpinless casters, maintenance free casters and conventional caster products. From the lightest waste bin to the heaviest scrap dolly or mobile compacting equipment, we have the knowledge, production prowess and design skill to meet your needs. Our insightful sales and customer service staff will be there for you each at each step along the way and in between. Our in house engineering, manufacturing and quality departments ensure the highest quality products are the only ones RWM Casters stands for.
The last thing on an operation manager or OEM equipment manufacturers mind should be the caster and wheel products used. However often times logistical issues may arise when incorrect or insufficient product is used. RWM can help save headaches such as this so focus can be direct to streamlining production, improving quality and driving profits while eliminating downtime. Our products can aid in many ways such as improving roll ability, decreasing equipment cost, eliminating costly maintenance, and offering tailored solutions to your industrial needs. Allow us to shoulder the load!
Common waste logistic applications may include scrap bins, tip carts, dumpsters, trash dollies and mobile trash compacting equipment
Contact our customer service or sales department at 1-800-634-7704 and we will direct immediate attention to your application. Our website www.rwmcasters.com contains additional information as well as available 2-D & 3-D CAD Model downloads. In addition to the many industrial caster and wheel products RWM also carries a full line of material handling products such as aluminum handtrucks, steel carts, and bulk delivery systems.
Our Kingpinless Caster products are proudly made in the USA!
---