Industrial Tipping Bucket Precipitation Gauge
Product Announcement from RainWise, Inc.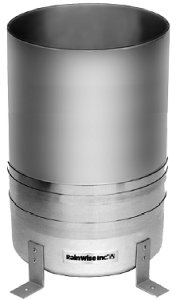 The RainWise Industrial Tipping Bucket Precipitation Gauge
The RainWise model RGA industrial tipping bucket precipitation gauge is constructed from anodized aluminum and stainless steel to provide years of precision recording of any type of precipitation.
The tipping bucket is molded from a specially-formulated plastic that has a very low surface tension coefficient. The weight of the water required to make the bucket tip produces a momentary switch closure that is equal to 0.01 inch/0.25mm of rainfall. This momentary pulse may be used in a system to determine either rainfall amount and/or rate. The same tip that produces the pulse also dumps the bucket so that the gauge never requires emptying.
The tipping bucket sensor is mounted on stainless steel instrument bearings and housed in an anodized aluminum case. The unit has a built in bubble level to facilitate installation. An insect/debris screen is also provided.
The gauge is heated with two molded rubber electric heaters which are controlled by a built-in thermostat. These heaters are factory set to operate at 35° F. (1° C..). Mounting options include flange feet for mounting on a flat surface or the RainWise Monopod adapter which allows for easy installation and removal. The RGA is guaranteed for five years.
___
SPECIFICATIONS
Transducer: Tipping bucket of specially formulated plastic for low surface tension - mounted on stainless steel instrument bearings.
Switch: Dry reed switch.
Output: Less than 0.1 second per switch closure.
Resolution: 0.01" / 0.25 mm per bucket tip.
Accuracy: 0.5% at 0.5 per hour.
Overall size: 8.75" x 12.5" ( 31.75 cm)
Collector diameter: 8.625" (21.9 cm)
Heaters: ` 120/250 VAC – 525 watts
Thermostat: Factory set at 35° F. ( 1° C.)
–––––––––––––––––––––––––––––––––––––––––––––––––––––––––––
Please contact us for more information:
Email: sales@rainwise.com
Toll: (800) 762-5723
Phone: (207) 288-5169
RainWise, Inc.
25 Federal Street
Bar Harbor, ME 04609
---