PVmet 150 - Solar Energy Efficiency Monitor
Product Announcement from RainWise, Inc.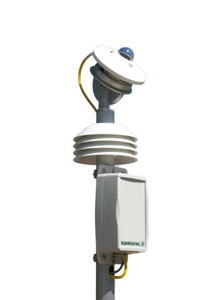 The PVMETseries of weather stations were designed to meet the needs of alternative energy power generation, specifically solar generation. These stations feature sensors specific to PV power generation and communication options that provide a powerful add-on to any solar power plant. These affordable stations are compact and simple to install.
The PVMET-150 is an entry level high-end utility grade station. The PVMET-150 uses a precise second-class thermopile pyranometer allowing for bankable data and is mounted on a tilting bracket to provide global or plane-of-array measurements. The PVMET-150 is available with ISO 9060:1990 and WMO second class, first class and secondary standard pyranometers.
As with all PVMETstations it includes a RS-485 Modbus interface.
–––––––––––––––––––––––––––––––––––––––––––––––––––––––––––
Please contact us for more information:
Email: sales@rainwise.com
Toll: (800) 762-5723
Phone: (207) 288-5169
RainWise, Inc.
25 Federal Street
Bar Harbor, ME 04609
---