PortLog - Weather Station
Product Announcement from RainWise, Inc.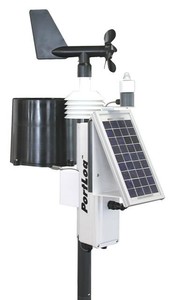 The PortLog is a compact rugged industrial grade data logging weather station. The unit is fully assembled and can be quickly deployed. The large 3-Watt solar panel and 4AH sealed lead acid battery ensure reliable operation in the harshest conditions.
The non-volatile memory can provide data storage for up to 9 months at a one-hour logging rate. The user selectable rate can be adjusted down to one minute. Memory upgrades are available for extended logging applications. The PortLog memory can be configured to wrap or stop logging when full. In wrapping mode, the oldest record is replaced with newest when the memory if full. Wind speed records include peak and average speeds for the interval. The average direction is recorded. The remaining parameters are instantaneous readings. Data is output in comma-delimited text (CSV). Microsoft Excel can be used to view, graph and manipulate the data.
The PortLog features a patent pending wind direction sensor that provides 1-degree resolution with no dead band. The wind speed sensor features race bearings, which offer excellent longevity and a low starting threshold.
The precision barometer reports absolute atmospheric pressure but can be corrected for altitude. Corrections are made using the supplied software.
Data can be retrieved from the PortLog using a notebook computer, Windows Mobile PDA (with PLmobile software), landline modem or cellular modem. An additional power source will be required to power communication equipment.
___
SPECIFICATIONS:
WIND SPEED
Range: 0-150 mph. 0-67 meters per second. 0-240 kilometers per hour. 0-130 knots. Resolution: 1.0 unit. Threshold: 0.5 meters per second Accuracy: ± 2% of full scale
WIND DIRECTION
Range: 0-360 with 1 degree resolution. Accuracy: ± 3° TEMPERATURE Range: -66° to +150° F. -54° to + 65° C. Accuracy : ± 2.0° F ± 1.0 °C.
RELATIVE HUMIDITY
Range: 0 – 100% Accuracy: ± 2% from –40° to +65° C.
DEW POINT
Range: -40° to +110° F. -40° to +43° C. Accuracy: ± 4° F. ± 2° C.
BAROMETER
Range: 16.3 inches Hg to 32 inches Hg. 551 to 1084 millibars (hPa) Accuracy: ± 0.5 inches Hg. ± 1.69 millibars (hPa) temperature compensated from –40° to +85° C.
RAINFALL
Range: Unlimited tipping bucket with 8 inch dia. collector. Resolution: 0.01 inch. 0.25 mm. Accuracy: ± 2% @ 1.0 inches per hour.
SOLAR RADIATION
Range: 0 to 2,000 watts per square meter Response: 400 to 1,200 nanometers Accuracy: Maximum ±5.0% - typical ±3.0%
___
All sensors are NIST traceable.
Calibration services are also available.
___
The PortLog is normally supplied with a tough carrying case. The case will carry the PortLog, tripod and accessories. Accessories include a hammer, battery charger and hand held compass.
___
The tripod can be quickly assembled and includes a ground anchor. One person can easily deploy the weather station in a few minutes. The PortLog can also be supplied without the tripod and carrying case.
___
The PORTLOG is guaranteed for five years.
–––––––––––––––––––––––––––––––––––––––––––––––––––––––––––
Please contact us for more information:
Email: sales@rainwise.com
Toll: (800) 762-5723
Phone: (207) 288-5169
RainWise, Inc.
25 Federal Street
Bar Harbor, ME 04609
---