Product Announcement from RainWise, Inc.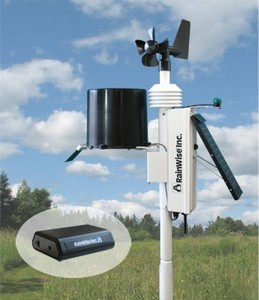 The AgroMET professional weather system has been designed with the grower in mind! Our durable and dependable weather station collects on-site environmental information critical to making informed decisions for best practice planting, spraying and watering schedules. Weather data is sent to our cloud-based web hosting service, RainwiseNet™, via a small and easy to install network interface, the IP-100. No computer link is necessary for uploading data from your weather station through the IP-100 to the web.
–––
The IP-100 provides unprecedented transmission and access to real-time weather data in multiple formats:
Online via RainwiseNet™(Software included)
Purchase our RainWise iPhone or iPad app for access to your data on the go!
If available in your region, you can participate in the Network for Environmental & Weather Awareness (NEWA) and receive the latest in pest and crop forecasts. Access toNEWA is free of charge.
–––
The AgroMET comes factory assembled and ready to install. The 1 mile line-of-sight transmission to the IP-100 network interface allows for optimum weather station placement. The IP-100 unit simply connects to a router or switch to communicate directly with the RainwiseNet™ cloud server.
–––
The RainWise AgroMET (MKlll-SP1-LR) Weather Station is the official weather station authorized by NEWA for recording temperature, leaf wetness, relative humidity, precipitation, solar radiation, wind speed and direction. This essential data is sent via radio from your AgroMET (MKlll-SP1-LR) Weather Station to the IP-100 where it is decoded and sent on to RainwiseNet™; no computer is required - you just need a connection to the Internet. RainwiseNet™ exchanges your information with the NEWA server so your data is always available on both websites.
–––
The AgroMET MKlll - SP1-LR Weather Station
This station has been designed to specifically support the agricultural community with the following key sensors:
Precipitation
Temperature
Humidity
Leaf Wetness
Wind Speed and Direction
Solar Radiation
–––
The sleek sensor assembly design is 33 inches high and weighs just over 7 pounds, and has been designed to offer durability and serviceability. It is the most accurate, durable and easiest to install weather station available.
–––
Information on NEWA:
The value of weather data is greater when it can be shared. NEWA makes it possible for farmers to share resources for weather data collection, analysis, distribution, and archiving. More About NEWA...
NEWA users reported that they can save, on average, $19,500 per year in spray costs and prevent, on average, $264,000 per year in crop loss as a direct result of using NEWA pest forecast models. More NEWA News and Reports...
NEWA was formed in 1995 and continues to evolve to stay current with advances in pest and weather forecasting. It is operated by and funded through the NYS IPM Program. Today, NEWA partners with the Northeast Regional Climate Center to deliver weather data and pest forecasts from over 100 sites in the northeast. More NEWA History...
NOTE: The AgroMET (MKlll - SP1-LR) Weather Station must be purchased together with the RainWise IP-100 Network Interface to enable connection with NEWA.
––––––––––––––––––––––––––––––––––––––––––––––––––––––––––––––––––––––––––––––––––––––––
Please contact us for more information:
Email: sales@rainwise.com
Toll: (800) 762-5723
Phone: (207) 288-5169
RainWise, Inc.
25 Federal Street
Bar Harbor, ME 04609
You have successfully added from to your part list.
---