RGAI-1 Rain Gauge Analog Interface
Product Announcement from RainWise, Inc.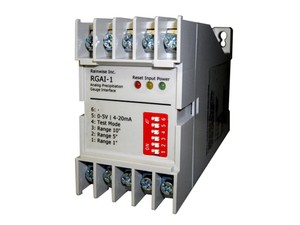 Intended for use in industrial applications where a 4-20mA, 0-20mA, 0-24mA or 0-5 VDC is required, output is easily selected via a simple dipswitch setting. The enclosure is constructed of glass-filled polycarbonate ensuring years of internal circuitry protection. The RGAI-1 is engineered to easily snap into a standard 35mm DIN rail or panel mounted using corner mount holes on the enclosure.
Special features:
4 outputs to choose from: 4-20mA, 0-20mA, 0-24mA or 0-5 VDC.
DIN rail mountable.
DIP switch configuration.
1",5" or 10" ranges.
optically isolated inputs.
24V reset input.
5 year warranty.
–––––––––––––––––––––––––––––––––––––––––––––––––––––––––––
Please contact us for more information:
Email: sales@rainwise.com
Toll: (800) 762-5723
Phone: (207) 288-5169
RainWise, Inc.
25 Federal Street
Bar Harbor, ME 04609
---