Product Announcement from Ramsey Products Corporation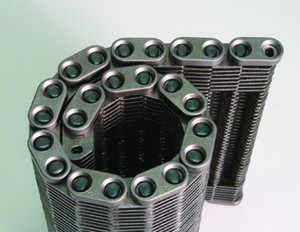 Ramsey's ALLGUARD FX conveyor chain is designed to extend chain life and improve product handling, especially in applications where conveyors run in contact with lateral guides or transfer plates. Using wear resistant links that guard and protect the sides of the chain, ALLGUARD chains run in direct contact with lateral guides, immune to the pin head wear that can destroy typical chains.
ALLGUARD protection can be added to both sides of a chain, or only one side, depending on customer preference.
HOW IT WORKS
Typical chains contain pins that extend from the sides of the chain. The ends of these pins, which are headed or riveted to hold the chain together, are vulnerable to wear and chipping when they contact lateral guides or transfer plates. In time, the wear may be severe enough to cause chain failure. Operators may try to prevent this problem by creating a gap between the chain and transfer plate. In some instances this gap can interfere with the smooth transfer of items across the chain. ALLGUARD chain eliminates these typical chain problems. Special ALLGUARD side links fully enclose pin heads and guard against pin wear and chipping. This allows the chain to be operated in direct contact with lateral guides or transfer plates, eliminating gaps that can prevent smooth product transfer.
MULTIGUIDE, CENTER GUIDE, AND SIDE GUIDE CHAINS
ALLGUARD FX chains are available to replace nearly all side guide, center guide, and multiguide chains. The design of the FX guard links used in each style of chain differs slightly in order to provide the best fit with existing sprockets and conveyor wear plate dimensions. Chains can be selected to operate with existing sprockets, so sprocket modification is not required. All FX chains can be top ground to provide an extra smooth surface finish.
You have successfully added from to your part list.
---