Product Announcement from Raytheon ELCAN Optical Technologies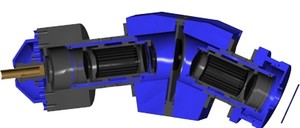 High Performance Spectroscopy (HiPS) is an innovative OEM platform for quick, reliable, custom remote sensing applications. HiPS systems are roughly one-quarter the cost of mass spectrometers of equal resolution and are adaptable for man portable, mobile or diagnostic lab applications for homeland security, battlefield, industrial, biomedical and agricultural applications.
Optical spectroscopy is a powerful tool for identifying and measuring unknown biological and chemical samples. Raytheon ELCAN Optical Technologies (Midland, ON) and P&P Optica (Waterloo, ON) are developing High Performance Optical Spectrometers (HiPS) based on the unique P&P Optica transmission-based gel gratings. HiPS spectrometers offer high dynamic range and high spectral resolution that can cover spectral ranges from 250nm to 2500nm. The comparative reduction in scattering and ghosting results in much higher quality spectra than with existing systems as there is less cross-talk between wavelengths, improving both the signal-to-noise ratio (SNR) and resolution of the measured spectra.
High Performance Spectroscopy (HiPS) provides the potential for a disruptive innovation to the existing market space by providing quicker, more reliable results without requiring highly qualified technicians in laboratory conditions. The simplicity and portability of HiPS-based systems enable use by first-responders, border staff, health care providers and military personnel with minimal training. The ability to quickly and non-destructively detect and accurately identify unknown agents at relatively low cost has the potential to transform the health sciences, food processing and safety, agriculture, homeland security and environmental monitoring industries.
You have successfully added from to your part list.
---