NEW! M1000 PROBE ANALYZER measures UV254
Product Announcement from Real Tech, Inc.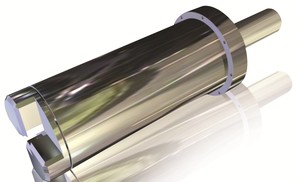 The new M1000 series expands on Real Tech's successful Real UV254 'M' series of products to include probe style analyzers. The M1000 analyzer series measures UV254, also known as the Spectral Absorption Coefficient (SAC), allowing for the rapid real time detection of organic contamination. The M1000 probes are specifically designed to provide increased accuracy and reliability in open channel or non-pressurized wastewater applications, while maintaining affordability and ease of use.
The M1000 probes are beneficial for many heavy organic laden monitoring applications as well as for monitoring UVT for wastewater UV disinfection applications. Real Tech also offers two new optional product accessories that can accompany any M1000 probe analyzer. The new optional 'Real Controller', specifically designed for the M1000 series, is a wall mounted operator interface allowing for convenient display and control of multiple M1000 probes from one Real Controller device. The new optional 'Real Air Clean' automatic pressurized air cleaning system makes an excellent complement to further improve performance and ease of maintenance for any M1000 series probe.
---