The Real UV254 'P' Series Portable Field Meters
Product Announcement from Real Tech, Inc.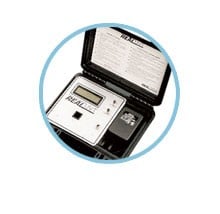 The Real UV254 'P' series is a portable meter that can measure UV transmittance (UVT) and UV absorbance (UVA) at the 254 nm wavelength in the field within minutes.
The 'P series has been designed to cope with the harsh conditions encountered in the field. However, the extreme accuracy of the Real UVT meter makes it a valuable addition to any water analysis laboratory.
To ensure the portable meter is always providing the user with accurate results, the 'P' series utilizes a built-in fault detection system. This advanced monitoring capability notifies the user in the event that the system's lamp or sensor are not performing as required, giving the user added confidence in the portable meter.
The 'P' series portable meter is user friendly, with a back-lit digital LCD display that provides users with instructions and system messages. As well, a detailed list of instructions and operating guidelines is conveniently provided inside the lid of the portable meter.
The 'P' series portable meter comes complete with a wall and car power adapters, however there also is a battery pack option which furthers the use and versatility of the meter.
The 'P' series portable meter is built to withstand rugged conditions, ensuring that you can take your Real UVT meter anywhere, anytime. Finally, you can have the benefit of expensive lab equipment accuracy, that is affordable, portable and easy to use!
---