Exhaust Hose Storage -- Series V Exhaust Reels
Product Announcement from Reelcraft Industries, Inc.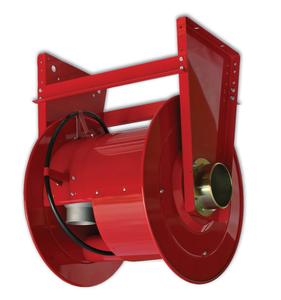 The new Series V exhaust reels conveniently store lengths of large diameter exhaust hose. Designed to divert hazardous carbon monoxide gasses away from the workplace, these industrious reels are spring retractable and feature a latching mechanism that maintains the desired working length of hose. A proper installation eliminates hazardous carbon monoxide gasses. This reel features two high quality industrial strength carbon drive springs to ensure that hose retracts every time. Each component is individually powder coated, providing excellent resistance against the environment.
Why use hose reels? Because they make hose handling more efficient and safer. Your hoses, cables and cords will last up to five imes longer. You will improve hose management, which decreases labor costs. Your chances of injuries from tripping hazards will decrease, which saves lost work time, medical bills and higher insurance. You also save the expense and time to replace expensive hoses, cables and cords that get run over by fork lifts and other vehicles.
Five reasons why hose reels add value
Improves effieciency - hoses, cable and cords are where you want/need them
Increase safety - reduce tripping accidents and lost work time
Minimize leakages - reduce costs of air and wate leakages
Reduce hose wear - hose and cord on reels can last up to five times longer
Increase productivity - no more tangles hoses improves efficiency
Reelcraft's Catalog
Reelcraft's 52 page general catalog offers the most complete collection of hose reels, cord reels, cable reels and accessories.
•
Download PDF (10.75 MB)
•
Request a copy
•
Download individual PDF catalog pages
You have successfully added from to your part list.
---