Model EC20 CBLL Clutch
Product Announcement from Reell Precision Manufacturing Corporation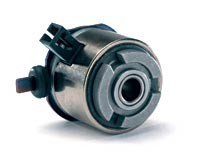 Design Characteristics
Technology Electromechanical wrap spring clutch
Low Wattage The EC20CBLL requires 14 watts at 24 volts for engagement. This voltage is held for 50 msec. The hold voltage of 12 volts uses only 3.5 watts of power.
High Torque, Small Package Size The EC20 CBLL provides 2.26 N-m (20 lb-in) of total load over a life of 1 million actuations with an outside diameter of about 33mm (1.75 inches), and a shaft length of about 25.4mm (1 inch).
Rapid Acceleration After spring wrap-down, the EC20CBLL will accelerate loads from zero to full speed in less than 3 milliseconds.
Consistent Performance Engagement is made with virtually no slippage and disengagement is almost instantaneous.
Power Source All Reell clutches operate on either filtered or unfiltered dc power. The EC20CBLL requires a pick voltage of 24V and a hold voltage of 12V. The use of filtered power is recommended for better life at high speed.
Application Considerations
Single Direction Wrap spring clutches provide torque only in the direction in which they wrap down. This allows for overrunning.
Relative High Shock Due to the EC20CBLL's rapid acceleration, system inertia effects can be significant. In some applications an in-line slip device may be used for shock absorption. Please contact a Reell Sales Representative for more information regarding this option.
Engagement Relative to Speed The EC20CBLL relies on relative motion between the input and output for engagement. Thus, the slower the speed, the longer the time until engagement.
Operating Parameters
EC20CBLL performance is best within the following conditions:
0°- 40° C (32°-104° F)
100-800 rpm typical, 1400 rpm max.
Minimum load friction torque 0.05 N-m (6.0 oz-in) plus customer input bearing torque.
---