Product Announcement from Regloplas Corp.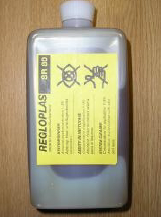 Removes oil-carbon residues and foreign contamination from metal surfaces. These circulate in the oil flow and are carried to the filter.
The additive does not contain any solvents. It can be dissolved in all mineral oils and synthetic fluids.
Application as a preventive measure or before changing the thermal oil.
Main characteristics:
Outlet temperature max. 570 °F
Other characteristics:
The optimal cleaning effect is achieved at between 250 and 300 °F.
With the D3 descaling unit for water systems, descaling agent REM 93, corrosion inhibitor RK 93 and system cleaner SR 80 for oil circuits, Regloplas offer their customers optimal assistance for maintenance.

Systematic Regloplas methods also in service: Descaling of water and steam systems as well as preventive maintenance of water and oil circuits.
D3 Descaling unit and descaling agent REM93 for cleaning molds and dies, cooling circuits and other systems operated with water or steam.
Corrosion inhibitor RK93 prevents corrosion, limescale deposits and the formation of rust in water circuits
System cleaner SR80 is a highly effective additive for cleaning heat transfer systems and other circuits contaminated by oil residues.
based in St. Gallen, Switzerland, maintains a wholly owned North American headquarters in St. Joseph, Michigan.
With thousands of applications operating in the United States, Regloplas Corporation is established to provide technical assistance, sales and service support for our customers in the United States, Canada and Mexico.
Industry specialists are available to handle technical questions and provide TCU training opportunities for production engineers, production supervisors and maintenance people in the plastic, rubber, die cast and various other industries. Regloplas Corporation is equipped to offer full service, full temperature run-up for all voltages and load ranges. Regloplas Corporation is also stocked with an inventory of replacement parts available for immediate delivery.
Products:
FAQ-Our specialists are happy to answer your questions about temperature control by means of fluid media.
Contact Us - We would be pleased to send you detailed information about our company and our products.
You have successfully added from to your part list.
---