40" x 48" Nestable SG Pallet
Product Announcement from Rehrig Pacific Company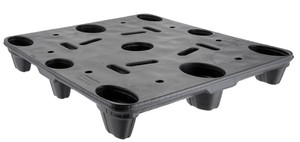 Rehrig Pacific has created the Nestable SG Pallet with your productivity in mind. This new generation of nestable pallets offers superior performance in both automated and traditional distribution systems and increased service life. Utilizing the advantages of high pressure injection molding and a proprietary blend of materials, Rehrig provides a stronger, more durable nestable pallet solution with greater stiffness, a higher load carrying capacity and easier handling than other manufacturing methods. Improve your workflow and your bottom line with Rehrig Pacific's Nestable SG Pallet.
Features:
Increased Durability
• Increased impact properties
• Thicker walls in areas susceptible to impact
High Strength-to-Weight Ratio
• Higher load carrying capacity
• Improved rigidity eliminates need to use two pallets
Seamless Integration/Compatibility
• Dual nesting leg options assure compatibility with nearly all nestable pallets
Increased Handling
• Ergonomic handles make handling easier and safer
• Beveled leading edges around the rim allow for easy entry into a stack of nested pallets
Increased Load Security
• Top deck scuff reduces case slippage
• Rigid design eliminates "flowering"
• Optional rubber grommets
• Optional perimeter lip
Better Nesting Ratio
• Allows more pallets to be shipped in a trailer
• Saves more space in warehouse
• Lowers overall handling costs
Improved Sustainability
• Aggressive buyback program
• Made with recycled content
Asset Identification Options
• Imprinted barcodes
• RFID tags
• Hot stamp or in-mold logos
Warranty
• Comprehensive warranty on materials and workmanship
You have successfully added from to your part list.
---