Product Announcement from Reliance Foundry Co. Ltd.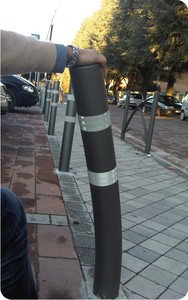 Flex bollards look like metal, but bend up to 90 degrees on impact. Bollards and foundations remain intact, most vehicles suffer no damage, and the bollards right themselves. Flexible bollards are the superior design choice for parking bollards and for any site where a vehicle is likely to go over the edge on turns. We offer hard-to-find historic designs, too.

The presence of a great many automobiles in city centres makes it necessary to limit their access to certain places: pedestrian areas, restricted parking lots, etc. Fixed metal bollards are one solution, although their continuous use as a traffic barrier makes them highly vulnerable to impact and abrasion, meaning that they require constant maintenance. Reliance Foundry`s flexible bollards offer the perfect mix between perimeter security and passive safety.
The bollard looks and feels like a solid rigid structure, but when impacted by a vehicle bumper, the bollard will gently bend. If a vehicle continues to force the bollard, it will continue to bend until it is at 90 degrees flush with the ground. Once the vehicle has been removed, the bollard will return to its upright rigid structure. These bollards are designed to cause minimum damage to a vehicle while preserving the bollard and it's foundations. In most cases after impact the bollard does not need to be replaced or repaired, saving both time and cost.
Made from a unique composite polymer with no internal metal reinforcement; these bumper guards provide high technological performance, combining apparent rigidity with flexibility - thereby allowing it to absorb impacts. Reliance Foundry's new FLEX Bollards show minimum residual deformation and creasing no matter which way the impact arises; these will not break or split when driven over and they rebound after being hit, slowly returning back to their upright position.
Flexible bollard posts are extremely robust, durable and require low maintenance. They are easy and cost effective to install, and can be mounted at any time in new or existing concrete. They are weather resistant, and will not freeze or change colour in sunlight. They have no sharp edges, and this makes them safe for pedestrians, cyclists and drivers.
For information regarding the install of our FLEX bollards, please see our flexible bollard installation details.
You have successfully added from to your part list.

Play Flexible Bollards – They Bend! Video
---