XStream GPU Acceleration for XFdtd
Product Announcement from Remcom (USA)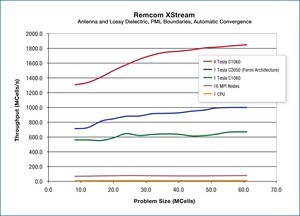 Xstream GPU Acceleration
Built-in EM Simulation Acceleration
XStream tremendously improves EM simulation performance by leveraging the powerful NVIDIA graphics processing units (GPUs) available in modern video cards to make ultra-fast FDTD numerical computations -- from 30 to 300 times faster than a modern 64-bit CPU. Remcom's new generation of XStream enables XF7 calculations to finish in minutes as compared to hours using a CPU only. And XStream capability is bundled at no additional cost with XF7.
Licensing:
A license to employ a single GPU for EM computation is included in both XF7 Pro and XF7 Bio-Pro, with additional capability for multiple GPUs available as a purchased option. Contact Remcom for details.
Custom Configured GPU Hardware:
Remcom's partners offer our customers custom XFdtd systems outfitted with the latest in graphics processing unit (GPU) technology. These Remcom-certified systems optimize XFdtd's performance by building the recommended GPUs directly into the product. Learn more about custom configured GPU systems for XFdtd.
Whitepaper:
Download our whitepaper on GPU acceleration technology and how it can enhance EM simulation performance. The paper discusses how GPU acceleration works and shows various examples of application speed-ups using XStream. Download the free paper.
Request additional information, a demo, or pricing from Remcom: http://www.remcom.com/information-request-form/

Play XStream GPU Acceleration for XFdtd Video
---