Product Announcement from Renishaw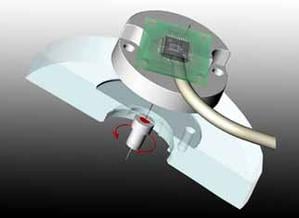 Part of Renishaw's family of high-performance, industrial-strength encoders, the solid-state On-Axis units feature a Hall sensor ASIC epoxy-embedded inside a rugged metal housing. Designed for easy integration on electric motors and other shaft-drive devices, the encoder ASIC/metal case can be mounted to motor backs, fit into a cast or machined hole, and simply fastened down with two screws. Åctuator magnets can be mounted onto or inset into the shaft. No adjustment is needed after mounting. OnAxis magnetic encoders are available in analog, incremental and absolute formats with resolutions up to 13 bit (8192 counts per revolution), speeds to over 30,000 rpm, measurement accuracies to 0.5°, and 5V or 24V power supply. The hard-body sealed encoders deliver high EMC immunity when shielded according to installation instructions.. Units are RoHS compliant. Versions can ordered for immersion applications (pumps, gearboxes, etc.). Breakthroughs in simplicity, the OnAxis encoders have at their heart just two core components — a small diametrically polarized magnet and a custom Hall sensor ASIC which contains a circular array of Hall effect sensors that generate a voltage when exposed to a magnetic flux field. The ASIC detects the change in magnetic flux as the magnet rotates above it. Sine and cosine voltage outputs from the sensor array vary with magnetic position and are converted to absolute angle position by a fast flash interpolator. The absolute angle position value is output through a parallel binary interface or a serial SSI interface. Relative changes of angle position are output through A QUAD B encoder signals. Through creative design, the ASIC is able cancel magnetic interference, enabling it to operate in areas of high external magnetic fields and cope with imperfections in the shape of the flux field of the actuating magnetic. RLS magnetic rotary and linear encoders from Renishaw provide versatile, low-cost solutions to machine positioning across a vast range of applications and industries — motor control, instrumentation, metalworking, marine, medical, automotive, aerospace, robotics, vision systems, industrial automation, packaging, printing and converting, agriculture and oilfield machinery, lift equipment and elevators, power tools and fluid control. As with all Renishaw's products, a worldwide application support network and local inventory stocking bring added confidence to system developers.
You have successfully added from to your part list.
---