Water Softeners...Commercial & Industrial
Product Announcement from Res-Kem LLC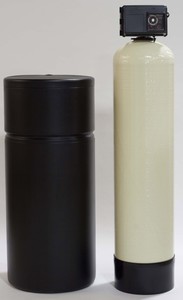 Res-Kem FT-Series Water Softeners are standardized, single, dual, or multiple tank systems with time clock or meter initiated regeneration for commercial and industrial applications to remove water hardness. Fully automatic, brass constructed, multi-port valves with adjustable regeneration cycles control softeners. Electronic controls are optional. Single unit flow rates up to 120 gpm. Using multiple units flow rates are unlimited.
Res-Kem FT Water Softeners are designed to provide continuous soft water 24 hours per day for dual units. Single units are a cost-effective way to provide soft water where demand is intermittent. For either design, the only operator attention needed is to put salt in the brine tank.
Economical and efficient, the heart of the Res-Kem FT-Series Water Softener is the Pentair Fleck 2750, 2850, and 2900, all brass control valve. With a meter initiated, twin tank alternating design, one tank is in service while the second is held in stand-by. These rugged Fleck control valves provide a low maintenance, high flow rate, and quality system able to meet the most demanding needs.
STANDARD FEATURES:
• Single or Dual Tank Systems
• Continuous Flows up to 140 gpm
• NSF Approved Fiberglass Tanks
• 8% Crosslinked, High Capacity Cation Resin
• Hub and Lateral or Strainer Distributors as Appropriate
• Time Clock Initiated Regeneration
• Brine System
• Backwash Flow Controller
ADVANTAGES:
• Standard Systems for Continuous or Intermittent Demand
• Materials Selected to Withstand Corrosive Environments
• Reliable, Low Restriction Valves
• Non-Clogging Distributors Allow Operation Over Wide Flow Rate Range and for Even Distribution
• Standard Designs Reduce Cost and Delivery Time
• With Proper Service, the Robust Design Virtually Eliminates Operator Involvement
OPTIONS:
• 3200NT Electronic Valve and Meter for Easy Programming and Flow Measurement
• Meter Initiated Regeneration
• Dual Units Options Include Parallel, Series, and Alternating Operation
• 10% Crosslinked Cation Resin
• Fine mesh Cation Resin
• Macroporous Cation Resin
• Factory Assembled, Dual Units Pre-piped and Wired Skid
• Manual Unit Isolation Valves
• Hot Water Capable Unit
Why use a Water Softener?
Calcium and magnesium are hard scale forming minerals that build up on piping, heat exchangers, water heaters, boilers, and any steam equipment. This buildup results in costly repairs, increased energy consumption, plugged heat exchangers and boiler tubes. Also, hardness greatly reduces the service life of linens, clothing, appliances, and plumbing fixtures.
The following facilities are examples of ideal applications for water softening equipment:
Apartments/Condominiums
Office Complexes
Car Washes
Hospitals
Laundries
Institutions
Light Manufacturing Plants
Large Homes
Boiler Pretreatment
You have successfully added from to your part list.
---