Service Deionization...DI Exchange
Product Announcement from Res-Kem LLC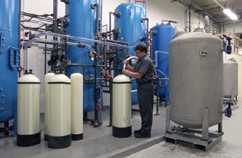 Res-Kem is a focused, water treatment service company specializing in portable exchange DI water systems for the Northeast and Mid Atlantic States including Delaware, New Jersey, Eastern Pennsylania, Maryland, Virginia, North Carolina, New York, Connecticut, Rhode Island, Massachusetts, Vermont, New Hampshire, and Maine. On a case-by-case basis we provide DI services outside our standard service area.
RESPONSIVE TEAM Reponsive local service and support is a core company value. Motivated service technicians, supported by knowledgeable design and process engineers, guarantee on time deliveries and complete customer satisfaction.
OPTIMAL REGENERATION All ion exchange resins processed by Res-Kem are carefully, and methodically regenerated at optimal dosage levels. This assures the proper chemical conversion of all resin exchange sites.
QUALITY ASSURANCE For quality assurance purposes General Water regenerated resins are tested for both "Quality of Effluent" and "Thru Put Capacity." Retained samples of each regeneration are kept for 2 years providing full documentation and traceability.
RESIN & TANK TRACEABLILITY Each of Res-Kem's portable exchange tank, regardless of size, has its own serial number. This is used to track each tank and its associated resin lot back to its applicable regeneration and retained sample. This level of ongoing detail affords our customer base complete resin traceability for any and all resins delivered to their site.
DI WATER SYSTEMS Res-Kem regenerates and delivers large and small deionized (DI) water tank systems. The flow rate through individual banks of deionized water tanks ranges from 1 gpm to 150 gpm.
INDUSTRIES SERVED Depending upon the flow requirement, single or multiple banks are used. We supply portable service DI water systems for high purity and ultra high purity water applications for virtually any process industry where deionized water is critical to production.
Chemical Plants
Power Plants
Food Processing
Nanotechnology
Pharmaceutical
Semiconductor
You have successfully added from to your part list.
---