Demineralizer System...produce high purity water
Product Announcement from Res-Kem LLC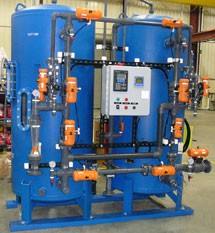 Res-Kem's industrial two-bed deionizers are available as standard pre-engineered units or as custom designed systems with the flexibility to meet a wide range of individual customer requirements.
Ranging in size from 18" to 96" in diameter and with flows from 10 to 220 gpm, Res-Kem's two bed deionizers are a highly efficient means of removing dissolved minerals and solids to produce high purity DI water. Regeneration of the system is initiated by conductivity, time, and/or totalized flow. The deionizers can be supplied in combination with a full range of options and related equipment to provide a fully integrated water purification system.
Res-Kem Dual Bed Deionization Systems are designed for fully or semi-automatic operation. These systems will integrate into a complete water treatment system without expensive custom field engineering and programming.
Why use a Deionized Water System?
High pure water treatment is required in many industries, applications, and processes. Res-Kem offers a series of pre-assembled systems for the production of a continuous supply of high purity deionized water. Some of the many applications for high purity water are in:
Food and Beverage Processing Plants
Power Plants
Chemical Plants
Pharmaceutical Plants
High pressure boiler feedwater
Manufacturing Plants
Laboratories
Autoclaves
Steam Generators
Electronic Products
Medical Device Production
Alloy Metal Fabrication
Aerospace
Humidification Systems
Metal Treating and Plating
Printed Circuit Boards
ADVANTAGES:
Uses Less Water Than a Comparable RO System
Materials Selected to Maintain Water Quality and Long Service
High Quality Water Despite Changes in Water Flow Rate
Standard Designs Reduce Cost, Installation and Delivery Time
Simple Operation Reduces Operator Training Requirements
FEATURES:
Conductivity of less than 10 micro-ohms
Flow rates from 10-220 gpm and capacities from 140,000 - 2,200,000 grains
Strong acid 8% crosslinked cation and type 2 strong base anion resins as the standard, with other resins available as an option.
Microprocessor based control system with conductivity monitor and flow sensor for regeneration initiation.
Electrical enclosures are NEMA 4XFG corrosion resistant fiberglass, which reduces maintenance costs.
PVC coated steel vessels depending on size and customer requirements.
Optional ASME code vessels.
Factory assembled and skid mounted for quick installation and minimum startup cost.
Schedule 80 PVC piping package including air operated true union ball valves are standard. Air or electric actuated ball or butterfly valves are available as an option.
Pressure regulators, rotameters and metering valves supplied for accurate and safe control of regeneration water and chemical introduction.
Internal distributors are corrosion resistant, designed for optimum efficiency and are fully supported where required.
The following are the standard system sizes available for Res-Kem:
DI18072 Dual 18-inch diameter demineralizer system
DI24072 Dual 24-inch diameter system
DI30072 Dual 30-inch diameter system
DI36072 Dual 36-inch diameter system
DI42072 Dual 42-inch diameter system
DI48072 Dual 48-inch diameter system
DI54072 Dual 54-inch diameter system
DI60072 Dual 60-inch diameter system
DI66072 Dual 66-inch diameter system
DI72072 Dual 72-inch diameter system
DI78072 Dual 78-inch diameter system
DI84072 Dual 84-inch diameter system
DI90072 Dual 90-inch diameter system
DI96072 Dual 96-inch diameter system
You have successfully added from to your part list.
---