Filter Media, Water Filtration Media
Product Announcement from Res-Kem LLC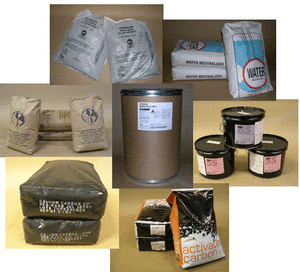 Res-Kem is a leading stocking distributor of water filter media for municipal, industrial and commercial water filtration systems, including water filtration media such as filter sand and gravel, anthracite filter media, green sand water filter media, and garnet filter media. All products meet or exceed AWWA B100 and are listed under NSF Standard 61. Mixed pallets of media are our specialty.
Various types of water filtration media stocked by Res-Kem:
Anthracite Filter Coal, Anthrafilt®
Commonly used as sub-fill and as a component of multi-media filters, anthracite is a durable media with long life and a wide temperature range. It contains no silica to interfere in the production of ultra pure water.
Filter Sand and Gravel (May also be called Torpedo Sand - Coarse Sand - Support Gravel - Filter Gravel - Pea Gravel )
The filter sand and gravel we stock and distribute is 99% silica and mined in New Jersey. The sub-angular shape of silica sand enhances the mechanical filtration properties of multi-media filters. It is a dense media at 100 pounds per cubic foot and acts as perfect sub-fill for non-silica sensitive applications such as water softeners and dealkalizers.
Garnet
At 126 pounds per cubic foot garnet is typically used in multi-media filters as the sub-fill or bottom layers of the filter. Although its density requires high backwash rates combining fine mesh garnet with other media such as sand and anthracite significantly increases the filtration capacity of a system.
Filter Lite or Filter Ag®
A low-density media typically used in multi-media filters to enhance the capacity of the filter to remove smaller micron particles. At 24 pounds per cubic foot it sits as the top layer in a multi-media filter.
Pyrolox
A granular manganese dioxide media used primarily in potable water residential applications for the removal of hydrogen sulfide, iron and manganese. Chlorine is often used during regeneration cycle to insure full capacity.
Manganese Greensand
A dense media at 85 pounds per cubic foot. In addition to its filtration properties is can remove soluble iron, manganese and hydrogen sulfide from well water supplies.
GreensandPlus
The second generation of greensand, this media is more rugged than the original but has identical operating characteristics. GreensandPlus is a purple-charcoal filter media used for removing soluble iron, manganese, hydrogen sulfide, arsenic and radium from well water supplies.
KDF 55 & 85 KDF (Also known as a redox alloy)
KDF55 is used for the efficient removal of chlorine and mercury remediation. It is universally applied from the smallest of water filters to large municipal and industrial equipment. KDF85 removes iron, hydrogen sulfide and chloramines removal.
Neutralizing Media
Calcium Carbonate is commonly used to raise pH in residential well water supplies. Brand names include Georgia Marble or Water Neutralizer. To enhance the neutralization process the addition of magnesium oxide, Flo-Mag, may be required.
Birm®
A granular filter media commonly used for the reduction of iron and/or manganese from residential raw water supplies.
MTM®
A granular manganese dioxide used for reducing iron, manganese and hydrogen sulfide from residential water supplies.
You have successfully added from to your part list.
---