Manways and Covers - Elliptical Yoke & Bolt
Product Announcement from Res-Kem LLC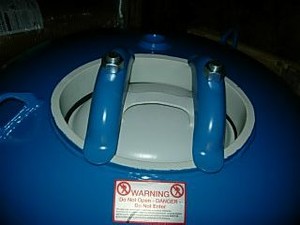 Res-Kem is a leading supplier of elliptical yoke and bolt manways for personnel access to pressure vessels. Res-Kem stocks 2 sizes of these complete manhole assemblies or tank manhole covers, which can be used for industrial and commercial water treatment applications. Custom sizes, stainless steel and various gasket materials are available upon request. Elliptical yoke and bolt manways provide reliable, low cost access to pressure vessels. Elliptical manway covers and rings are manufactured in accordance with ASME code specifications. Standard manways have a pressure rating of 300 pounds.
STANDARD STOCKED SIZES
Res-Kem stocks Standard Elliptical Manway Covers in two sizes:
COMPLETE MANWAY/MANHOLE ASSEMBLY
A complete manway/manhole assembly consists of:
Elliptical carbon steel ring in depths of 3", 4", or 6" with a thickness of 3/4" or 1" depending on size.
Pressed steel manway cover
One or two steel yokes (depending on type) with nuts and bolts
Gasket. The standard gasket supplied is black neoprene (60-70 Shore).
OPTIONS for COMPLETE MANWAY/MANHOLE ASSEMBLY:
Custom sizes
Stainless steel
Various gasket materials (Buna-S, high temperature neoprene, and expandable Teflon foam) are available upon request.
Complete Top Assembly consists of:
Manway Cover
Yoke, Bolts & Nuts & Neoprene Gasket
MANWAY COVER ASSEMBLY
Manway cover
Yoke, bolts, and nuts
Gasket (specify gasket material)
Does not include ring
MANWAY COVER AND GASKET
Manway cover
Gasket (specify gasket material)
Does not include ring, yoke, bolts, and nuts
Features of Elliptical Manways
As a self-energizing unit, yoke and bolt manways require positive internal pressures of at least 50 psi to achieve sealing. Manhole plates and rings are manufactured of materials in accordance with ASME Code specifications. Manhole rings are fabricated or formed from materials listed in Section II and welded per Section IX of the ASME Boiler and Pressure Vessel Code. Identifying marks required by Code Paragraph PG11 and UG-11 are stamped on each ring.
You have successfully added from to your part list.
---