Condensate Polishers...Economical and efficient
Product Announcement from Res-Kem LLC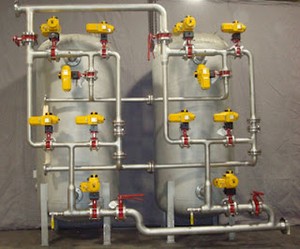 Sodium Cycle Condensate Polishers are available from Res-Kem LLC in a wide range of self-contained packages configured in single, double, and triple unit arrangements to treat condensate return for reuse as boiler feedwater. The standard wetted parts for Res-Kem Condensate Polishers are stainless steel. Single units are rated for flows up to 710 gpm. For larger flow rates, contact Res-Kem to determine whether larger or multiple units would be appropriate.
Economical and efficient, Res-Kem Condensate Polishers can be equipped for manual, semi-automatic or full-automatic operation. Regardless of the set up, only limited technical expertise is required for operation. Res-Kem Condensate Polishers will integrate into a complete water treatment system without expensive custom field engineering and programming.
All Stainless Steel Wetted Parts
Single Unit Flow Rates up to 710 gpm
Welded Components Media Blasted and Passivated
ASME Code Stainless Steel Vessel Designed for 100 psig
Factory Assembled Stainless Flanged and ASME Section IX Welded Valve Nest
Stainless Steel Hub and Wedge Wire Screened Lateral Underdrain
NEMA 4XFG Electrical Enclosure
Automatic Backwash Flow Controller
Separate Cold Water Connection for Regeneration Cycles
High capacity, High Crosslinked Macroporous Cation Resin
Raw Water Bypass Piping
ADVANTAGES:
Quick ROI by Reclaiming Waste Heat and Increasing Cycles
Cold Water Regeneration Saves Heated Water
Materials Selected to Withstand Corrosive Environment
Standard Designs Reduce Cost and Delivery Time
Passivated Flanged and Welded Piping for Corrosion Resistance
High Strength Resin Selected for Long Life
OPTIONS:
Allen Bradley PLC
Differential Pressure Switch
Flow Sensor
Water Sampler Cooler
Manual Isolation Valves
Subsurface Wash
Skid Assembly
Raw Water Bypass Piping
Welded Stainless Steel Inlet, Outlet, Brine, Sub-Surface Wash & Drain Headers
Pressure Relief Valve
Why treat Condensate?
Condensate systems always leak. Heat exchangers are where most of the leakage problems start. This is where untreated cooling water can contaminate the process water causing corrosion. Every system must have a method to handle this leakage. When a condensate system is not properly controlled or simply ignored, corrosion takes place. Iron, copper, and other harmful contaminants are washed back into the boiler systems. This wastes energy because these contaminants reduce heat transfer. A simple solution is to blow down the boiler to improve water quality, but this wastes heat and requires more makeup water. The cost effective solution is to "polish" your contaminated condensate for reuse. As more condensate is reused, less make up water is required, reducing both chemical consumption and energy requirements. Let Res-Kem work up the energy savings available by polishing your dirty condensate. The payback is both swift and dramatic.
ADDITIONAL INFORMATION:
Res-Kem Condensate Polisher brochure.
White paper entitled "Condensate Polisher Savings of 23% Realized Through Value Engineering" shows how a valve engineering team comprised of personnel from a well-known university, Res-Kem LLC (the equipment manufacturer), and a mechanical contractor yielded the best system for the money.
View the Res-Kem Boiler Feedwater checklist or use the printed version. When you are ready, contact our in-house experts to help you decide whether condensate polishing and/or makeup water softening will reduce dumping of valuable condensate energy, chemicals and water to drain while meeting ASME boilerwater guidelines.
Watch Video Reuse It Don''t Lose It! - Economics of Condensate Polishing PART 1 below. Click here to view Part 2.
You have successfully added from to your part list.
You need Flash player 8+ and JavaScript enabled to view the Condensate Polishers...Economical and efficient video.
Get the Latest Flash player.
---