Industrial Water Softeners
Product Announcement from Res-Kem LLC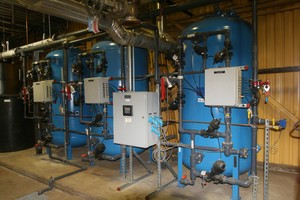 Res-Kem Zeo-Tech Softeners are used for municipal, institutional, and industrial water softening applications. Single units are rated for flows up to 925 gpm. For larger flow rates, contact Res-Kem to determine whether larger or multiple units would be appropriate. Both options are available from Res-Kem.
Economical and efficient, Res-Kem Zeo-Tech Softeners can be equipped for manual, semi-automatic, or full-automatic operation. Regardless of the configuration, only limited technical expertise is required for operation. Res-Kem Zeo-Tech Softeners will integrate into a complete water treatment system without expensive custom field engineering and programming.
Why use an Industrial Water Softener?
Calcium and magnesium are hard scale forming minerals that build up on piping, heat exchangers, water heaters, boilers, and any steam equipment. This buildup results in costly repairs, increased energy consumption, plugged heat exchangers and boiler tubes.
The following facilities are examples of ideal applications for water softening equipment:
ADVANTAGES:
Materials and Coatings Selected to Withstand Corrosive Environments
Reliable, Low Restriction Valves
Non-Clogging Distributors Allow Operation Over Wide Flow Rate Range and for Even Distribution
Standard Designs Reduce Cost and Delivery Time
Simple Operation Reduces Operator Training Requirement
STANDARD FEATURES:
Single Unit Flows up to 925 gpm
FDA Approved Epoxy Lined Steel Tanks with 100 psig Design Pressure
Top Mounted Manway
Schedule 80 PVC Hub and Lateral Distributors
Factory Assembled Diaphragm Valve Nest
Steel External Piping
Cast Iron Aquamatic Diaphragm Valves
Meter Initiated Regeneration
Automatic Brine Float Valve
Backwash Flow Controller
OPTIONS INCLUDE:
ASME Code Vessel
Plastic Aquamatic Diaphragm Valves
Butterfly Valves
Stainless Steel or Fiberglass Pressure Tanks
Salt Silo and Bulk Brining System
Stainless Steel, Copper, PVC, or Galvanized External Piping
Stainless Steel Internal Piping and Distributors
Pre-piped and Wired Systems Mounted on Skid
Interconnecting Piping Between Multiple Units
Manual Unit Isolation Valves
Allen Bradley PLC
For Options Not Listed Here Please Contact Res-Kem Corp.
ZEOTECH SOFTENER PRODUCT BROCHURE
The following video shows the features of the plastic Aquamatic diaphragm valves commonly used in our industrial and municipal water softening systems.
You have successfully added from to your part list.
---