MSI-8000 Dynamometer Remote Control
Product Announcement from Rice Lake Weighing Systems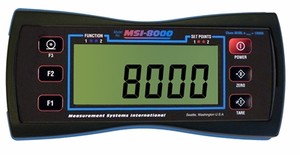 According to MSI sales representative, Kyle McKinney, "In uses like rigging a mobile construction crane, the Dyna-Link would likely be out of view or inaccessible. Our MSI-8000 allows users to see that weight data and control the scale wirelessly, where they haven't been able to in the past."
Through MSI-8000's ergonomic keypad and bold 5-digit LCD display, users have complete control over dynamometer function, programmability and operation. A rechargeable battery allows up to 24 hours of continuous, proven RF communication at distances up to 100 feet. The MSI-8000 currently syncs wirelessly with the latest generation of Dyna-Link 2, the MSI-7300, with future connectivity plans for other MSI crane scale products, including the MSI-3460 and MSI-4260 models.
Users in the petro-chemical, energy, marine, aerospace, and test and measurement industries will appreciate MSI-8000's heavy-duty, IP65 shock-resistant housing, as well as a standard RS-232 port that allows for advanced traceability and reporting.
For additional information on the new MSI-8000 RF Remote Display and other MSI products, visit www.msiscales.com, email info@msiscales.com, or call 206-433-0199, toll free at 1-800-874-4320 (U.S. and Canada only).
Measurement Systems International is a division of Rice Lake Weighing Systems, a family-owned, ISO 9001 certified corporation based in the United States. Headquarters, metrology laboratory and main manufacturing plant are located in Rice Lake, Wisconsin with support facilities throughout the world including North America, South America, India and the Netherlands.
---