SURVIVOR® OTR Truck Scale
Product Announcement from Rice Lake Weighing Systems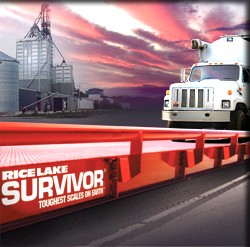 Unlike most "economy class" models, SURVIVOR® OTR scales don't sacrifice quality for price. Both the OTR concrete and steel deck modules boast wide flange I-beam construction. The steel deck design features 12-12" wide flange 14 lb per foot I-beams on 12" centers running longitudinally with the traffic flow beneath a diamond checkered treadplate. The concrete deck features 12" main beams and 6" beams under a 6" thick slab of concrete. The wide flange I-beam construction helps minimize deflection, (vertical flexing) a major factor in determining the life of the weighbridge. An industry-leading 90,000 lb CLC means you'll have consistent, accurate weighments, even under the toughest conditions. SURVIVOR® OTR scales are designed to accommodate a minimum of 250 trucks per day for 25 years without weighbridge fatigue. This is equivalent to over 2 million weighments. The legal highway DTA loading in most states is 34,000 pounds! Our PE-certified design engineers use the most advanced FEA (Finite Element Analysis) software to examine high stress areas and design SURVIVOR® truck scales based on actual loading characteristics. In addition, our patented load cell suspension design will ensure reliable, legal-for-trade accuracy that you can depend on for years to come. Finally, to make your truck scale investment decision even easier, we back up these real-world advantages with a class leading 5-year weighbridge guarantee.
SURVIVOR® OTR Standard Features:
• Up to 270,000 lb full scale capacity
• 90,000 lb Concentrated Load Capacity (CLC)
• 90,000 lb Dual Tandem Axle Rating (DTA)
• Flat-top modular design- custom sizes and profiles available
• Superior wide flange I-beam bridge design-heaviest in its class.
• Span deflection ratio 1:1100 for legal highway loads (steel deck)
• Span deflection ratio 1:1300 for legal highway loads (concrete deck)
• Boltless top access covers to load cells and junction box
• Boltless self-seating module hinge connections.
• Emulsified asphalt protective undercoating
• 75,000 lb capacity load cells
• G-Force load cell mount assemblies-self checking
• Copper transient by pass cables at each load cell
• Flex conduit and hub fittings at load cells
• No bumper bolts required
• Rice Lake TuffSeal® FRP junction box with "Gore™ PreVent" membrane
• NTEP-certified, COC #02-003A1
• 2-Year lightning protection warranty included
• 5-Year weighbridge warranty included
• Three standard platform widths: 10', 11', and 12' (up to 14' NTEP-certified)
---