The MVS Vehicle/Tank Scale Mount
Product Announcement from Rice Lake Weighing Systems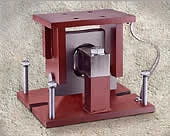 Designed for vehicle, livestock and tank/hopper weighing systems, the MVS weigh module sets an entirely new standard for performance, efficiency and durability.
Features:
Capacities from 50,000 lbs to 125,000 lbs.
High-quality steel construction with a hard-coat alkyd enamel finish for long-lasting reliability.
In vehicle scales, the MVS eliminates excess movement by using 100% of the gravity force from the loading action against itself - instantly returning the vehicle scale to dead center without check rods or bumper bolts. The result is faster processing, consistent accuracy, and less maintenance.
In tank weighing applications, the MVS' self-centering design automatically compensates for thermal expansion/contraction, delivering accurate performance regardless of environmental conditions.
Design consists of just four major components (base plate, top plate, load cell and link) to ease installation in new systems or retrofit projects.
Just one moving part-the link-means significantly less maintenance than conventional designs.
---