The Rice Lake Digital Physician Scale (150-10-5)
Product Announcement from Rice Lake Weighing Systems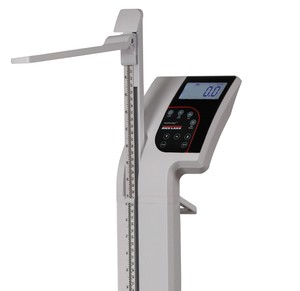 But that's not all this surprising new model has in store. Clinics, hospitals and fitness settings will appreciate the lightweight, portable design which also boasts a remarkable 550lb capacity, accommodating the broadest range of patients possible. For more about the features and benefits of the new Rice Lake Digital Physician Scale visit www.ricelake.com/medical.
In Depth
The Rice Lake Digital Physician 150-10-5 scale is designed for both modern appearance and contemporary function, with fresh, clean lines and forward-thinking features for the medical and fitness environments of today and tomorrow.
The Rice Lake Digital Physician Scale prepares you for the future requirements of electronic medical record keeping by letting you easily transmit scale data to external devices. The feature-rich Digital Physician Scale is an incredible value, with premium precision and accuracy in a heavy-duty design.
An integrated height rod tucks neatly within the scale column, and the large, stable scale base is both comfortable and easily transported by two integrated rubber wheels. Whether powered from an AC adaptor or standard alkaline batteries, this model is easy to use. Its large push-button display lights up for easy viewing and an audible beep sounds at the end of each weigh cycle. Add to that a 550lb capacity and exclusive Motiontrap movement compensation technology, and this Rice Lake model is one of the most accommodating physician scales on the market.
Standard Features
Platform Dimensions: 14.5 in W x 14.5 in L x 3 in H
Motiontrap™ (movement compensation technology)
Lb/kg toggle key
Large LCD display
6 "AA" alkaline batteries and AC adaptor included
Low-battery indication/automatic power-off
BMI (body mass index) function
Hold function
Unit of measure: lb only, kg only, lb/kg
RS-232 or USB output
Built-In Height measuring rod measures from: 27.5 in to 82 in x 1/8 in (70 cm to 208 cm x 1 mm)
Integrated wheels for ease of portability
Two-year limited warranty
---