Boom Angle Indicator: Model 4120WWL-12v
Product Announcement from Rieker, Inc.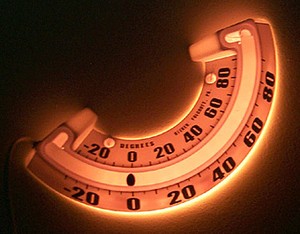 Rieker's popular 4120 Model "ball in tube" style boom angle indicator (or inclinometer) is now available in a highly visible backlit model for increased visibility (Model 4120wwl-12v available in right and left hand versions)!
These units are not effected by outdoor elements. They are made tough (100% Polycarbonate) and will not rust, freeze, or otherwise "hang up" like old fashioned pendulum styles. Like all of Rieker's instruments, each indicator is properly dampened for smooth reliable readings. They are designed to be easily mounted with two screws, which allows for quick and efficient retro-fitting in the field. The unique design allows viewing from the operator cab (below), spotter (on side), and above.
Commonly used on cranes, derricks, firetrucks with boom ladders, off-road lift or fork vehicles, or any equipment where boom angle indication is a must! Boom angle indicators are used in tandem with the manufactures load chart to provide a guide for safe operating conditions.
---