Curve Advisory Reporting Service (CARStm)
Service Detail from Rieker, Inc.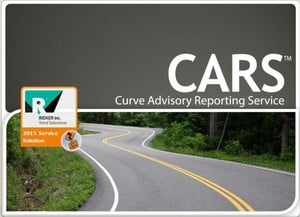 The Curve Advisory Reporting Service (CARS™) automatically captures all road data needed - in just one pass with traffic. Then auto-uploads to the CARS online app for automated Horizontal Curve Advisory Speed Reporting.
Rieker CARS service reflects the operating procedures of Federal, State, and local roads and highways, based upon the "Speed Zone Theory" and "85th Percentile Speeds", which is adapted by the American Association of State Highway and Transportation Officials (AASHTO); Institute of Transportation Engineers (ITE) and as defined in the Federal and/or State Manual of Uniform Traffic Control Devices, (MUTCD).
CARS Service Features
Safe & Continuous Operation

1 Pass each direction!
With Traffic!

FHWA Compliant
Meets Federal MUTCD Requirements
Integrated GPS
Key Data Collection
Cloud Reporting
Automatic upload of survey data
Software allows review of detailed road survey data
Generates reports for recommended curve speed
Allows for customization of horizontal limits to meet individual State requirements
Secure Online Data Storage
Automated Curve Speed Calculations
Rieker Inc., the leader in ball-bank instruments, introduces for 2015 the only complete service for establishing uniform safe advisory safe curve signage at a State-wide level.
SAFETY FIRST - Allows driving with traffic - any speed. CONSISTENCY - Meets FHWA 2009 MUTCD requirements. ON-TIME Project Completion - saves man hours & budget.
Now available through authorized fully trained and certified service providers - complete turnkey to project based solutions. If interested in becoming an Authorized CARS Provider call today to speak with one of our CARS Solutions experts.
Call us today to find the service provider in your state - 610-500-2000 - and learn how Rieker CARS Solution will help you meet the FHWA mandate for re-surveying all required roadway horizontal curves by 2019.
---