Low Cost Tilt Warning Switch - ALL-Weather
Product Announcement from Rieker, Inc.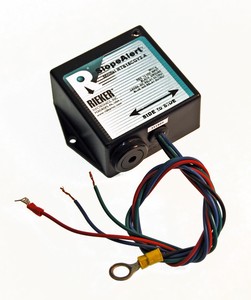 SlopeAlert™ is the Complete Tilt Warning System for Off-Road Vehicles and Equipment. The SlopeAlert units are reliable, low cost solutions of determining in-range and out of range tilt conditions. Connected to a lamp, horn, or solenoid relay, this compact Single or Dual Axis unit can indicate both safe and unsafe conditions as well as provide a control signal to help prevent equipment over rotation.
Features
ALL-Weather Housing
Shockproof to 500g
Lamp / Solenoid Driver
Open Collector Switch Output
Relay Output
Single and Dual Axis
Single Supply Input
Reverse Polarity Protection
Output Short Circuit Protected
High Current-Sink Capability
Inductive Load Protection
-40°C to +75°C Operating Temperature Range
Rugged Hermetic Packaging
Mercury Free
Single or dual trip angle settings are factory set and can be arranged in a single axis to indicate caution before final alarm. These trip settings are available in both Normally Open (turn something on/out of range condition warning) and Normally Closed (turn something off/in range or safe condition) outputs.
The SlopeAlert tilt indicator was designed for off-road, in-motion vehicles and equipment that operate in high vibration/shock, rough terrain environments. Two of the most common applications for this warning device are:
to help prevent vehicle or equipment rollover on steep slopes
to aid track vehicles that need protection for over rotation while in motion, especially in rough terrain.
Even though the SlopeAlert System was designed for monitoring vehicle inclination in off-road, rough terrain environments, it is well suited for any application where inclination needs to be limited. Other industrial applications include lawn mower rollover warning, irrigation controllers, construction equipment shut-off valve controllers, lift and dump vehicles, and earth moving equipment.
---