WaferX 300 in-line simultaneous WDXRF spectrometer
Product Announcement from Rigaku Corporation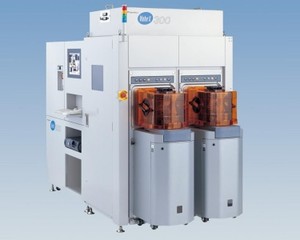 Rigaku's WaferX 300 represents the culmination of 25 years of experience in the X-ray fluorescence analysis of thin films on silicon wafers. Specifically developed as an in-process metrology tool, the system incorporates "bridge tool" technology - servicing 6", 8", as well as the latest 12" wafers.
Simultaneous thickness and composition
The WaferX 300 is ideal for measuring BPSG, PSG and metal films. In addition, thin film BPSG, multilayered circuit film, WSix, electrode films, ferrodielectric thin films, FRAM, next generation DRAM, and SiOF are standard applications for this tool.
Analysis to support sub-micron technology
Highly accurate analyses for the ultralight elements such as B and P in BPSG film has been improved significantly by employing a 4kW high power X-ray tube with a super thin window beryllium window.
Advanced design
The instrument employs a wafer height adjustment mechanism to compensate for differences in wafer thickness and a diffraction beam removal mechanism to eliminate diffraction interference for the transition metals. Integrated FOUP(SMIF) is available, supporting the C-to-C standard. Various user cassettes can also be loaded. FOUP(SMIF) through-the-wall option is available.
WaferX 300 specifications
Size of wafer: 300mm, 200mm, and 150mm
Simultaneous analysis elements: 21 channels max., Fixed type (4Be ~92U), Scanning type (22Ti ~92U)
X-ray tube: Rh target, 4kW max.
Aperture: 10mm, 20mm, 40mm diameter with automatic changer
Detector SC, S-PC, F-PC (PR gas required for F-PC)
Sample stage XYZθ drive
Analysis spot designation: r, θspec, r: 1mm unit, θ: 1° unit; X, Y spec 1mm unit; mouse and keyboard input available.
Sample rotation mechanism: Available for center-point analysis, 3rpm
Evacuation Load: lock chamber
Cassette - 300mm: Open cassette or FOUP (13 or 25 wafers)
- 200mm, 150mm: 25- or 26- wafer open cassette, orientation flat/notch alignment
Vacuum pump: Dry pump
Stabilizing system: Temperature stabilizer, Automatic vacuum control system
Heat exchanger: Deionized wafer circulation system
Data processing system: PC with Windows 7, Film thickness/concentration simultaneous analysis software, Fundamental Parameters software for thin film analysis
Safety standard: Complies with SEMI S2-0310
Others: SMIF, FFU, through-wall configurations, etc.
WaferX 300 applications
Isolation films: SiO2, BPSG, PSG, AsSG, Si3N4, SiOF, SiON, etc.
High-k and ferro-dielectric films: PZT, BST, SBT, Ta2O5, HfSiOx
Metal films: Al-Cu-Si, W, TiW, Co, TiN, TaN, Ta-Al, Ir, Pt, Ru, Au, Ni, etc.
Electrode films: doped poly-Si (dopant: B, N, O, P, As), amorphous-Si, WSix, Pt, etc.
Other doped films (As, P), trapped inert gas (Ne, Ar, Kr, etc.), C (DLC)
Ferroelectric thin films, FRAM, MRAM, GMR, TMR; PCM, GST, GeTe
Solder bump composition: SnAg, SnAgCuNi
MEMS: thickness and composition of ZnO, AlN, PZT
SAW device process: thickness and composition of AlN, ZnO, ZnS, SiO2(piezo film); Al, AlCu, AlSc, AlTi (electrode film)
You have successfully added from to your part list.
---