CMC III: 21st Century System Security & Monitoring
Product Announcement from Rittal Corporation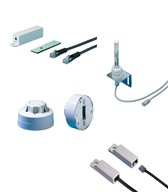 Advancing its already significant system approach to security and unit monitoring, Rittal Corporation is introducing Computer Multi Control (CMC) III to monitor dozens of critical IT component and environmental functions both on installed units and from remote locations. The new CMC III represents a significant advance in the Rittal System approach and its industry-leading monitoring technology. Furthering the capabilities of its predecessor, the CMC III can monitor up to 32 sensors. Fitted with CAN-Bus technology, a series of sensors can be linked, one to another, and monitored via the base unit.
A single temperature sensor is built in as a standard component, as is an infrared access control sensor.
Even more versatility
To make the CMC III even more versatile and attractive to the data center environment, there will be a CMC III Compact Unit - this version will feature the built-in temperature and access sensors and will handle up to four remote sensors.
Another advantage of the CMC III is its POE (Power Over Ethernet) capability. The units can be plugged into available Ethernet ports and do not require additional power packs or accompanying cables.
Among the key functions the intelligent monitoring system may track:
Attempted unauthorized access to a data center via swipe card/keypad authorization and lockout
Remote smoke alarm sensors
Temperature sensors
Vandalism, shock and vibration detection
Climate control/thermal management functionality
The CMC III can provide a variety of programming and monitoring options including the capacity to work with a variety of third party accessories including fans, lights and even email. The base unit includes an SD card for backup and a mini USB port for programming.
CMC III, the latest in the Rittal line, became available in late 2011. The company will continue to support and stock basis support products for its CMC II product offerings for the next five years.
For more information contact:
Rittal Corporation
1 Rittal Place
Urbana, OH 43078
Phone: 937-399-0500
Toll Free: 800-477-4000
Fax: 937-390-5599
---