Rittal UL Type 12 Network Enclosures
Product Announcement from Rittal Corporation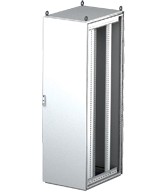 Ongoing technological advances in manufacturing operations and other modern industrial applications are increasingly integrating IT-dependent processes, making the use of IT equipment outside of the data center more and more prevalent. This requires enclosure solutions that can meet the demands of both IT performance and industrial-grade protection.
The factory floor is a much different place than the data center, where great pains are taken to control everything from heat and humidity to dust, dirt and other contaminants. Out on the floor, demanding, sometimes-unpredictable ambient conditions are the rule and not the exception. Forklifts, heavy machinery, airborne substances, personnel traffic and temperature swings are just some of the possible dangers encountered outside of the data center, and even though IT equipment is placed at greater risk out on the plant floor, uptime is still a primary concern and a non-negotiable requirement.
Building upon decades of experience in both industrial and IT modular enclosure solutions, Rittal offers UL Type 12 rated TS8 enclosures that incorporate the best of both worlds—the protection of our industrial enclosures and the flexibility and performance of our IT enclosures. Rittal's UL Type 12 network enclosures are compatible with a wide range of both industrial and IT accessories including Rittal industrial cooling products such as filter fans and air conditioners that can remove the heat necessary to keep installed IT equipment up and running while maintaining the critical UL protection rating.
Rittal UL Type 12 network enclosures are designed with user-friendly details derived from the real-world application challenges faced by both IT and industrial customers such as: infinitely depth-adjustable 19" rails with "U" markings that are plainly printed on the front and rear surfaces of each rail, maximum internal-volume-for-footprint with a 3,200 lb load capacity and multiple points for mounting, a number of toolless cable management options, and internal hinges and locking points for heightened security.
---