Pneumatic Valves Increase Thermoforming Efficiency
Product Announcement from Ross Controls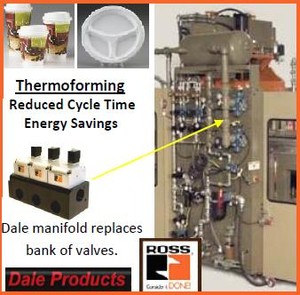 Thermoforming is a process where a thin sheet of plastic enters the machine mold and forms thin walled products by vacuum being pulled on the mold. These machines produce, high volume, low margin, products and machine speed is the difference between profit and loss.
See the pneumatic circuit drawings, specs, performance data and example valve arrangements used by OEM equipment manufacturers to build and retrofit thermoforming machines. The results are reduced cycle time, energy savings and less downtime.
Download the detailed pdf showing circuit designs, example valve arrangements, independent performance test results and OEMs who use the Dale valve series because of these key competitive advantages
Compact Manifold Design - Eliminating piping allows mounting closer to the mold.
Reduced Cycle Time - Less piping = less volume to evacuate = speed = profit!
High Flow - CP series 2-1/2" with a Cv of 100 = massive speed = massive profit!
Fast Consistent Shifting - Dual piston design eliminates springs and provides smooth, fast shifting.
Energy Savings - The Dale Valve Solution is Green! Reduced piping eliminates system volume which reduces vacuum pump and compressor drain. True 2/2 Dale design with no "open crossover" reduces vacuum pump and compressor drain.
Reduced Downtime - Poppet cartridge design allows rebuilds to be completed in minutes.
Use the links on the left to visit our website or e mail us - We welcome your inquiries
You have successfully added from to your part list.
---