6 Passage Stainless Steel Custom Rotary Union
Product Announcement from Rotary Systems, Inc.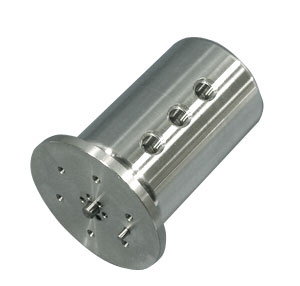 This six passage flange style stainless steel rotary union was designed to pass pneumatics and/or DI water for a Chemical Mechanical Planarization (CMP) piece of Semi-conductor equipment. The union is manufactured from 316 stainless steel and the shaft is hard chromed on the seal surface for hardness. We currently provide a number of multiple passage rotary unions to the Semi-conductor industry in the CMP field.
If you have a specific rotary union application, contact Rotary Systems at 800.959.0146 or email info@rotarysystems.com.
About Rotary Systems:
Rotary Systems is recognized for our innovative design and manufacturing capabilities in rotary unions and electrical slip rings. From our skilled engineers to our state-of-the-art facility to our incredible depth of knowledge, you can trust Rotary Systems to always deliver rotating unions and slip ring solutions designed and built to the highest standards possible. To learn more how engineers around the world, in limitless industries, including Automation, Defense, Offshore, Semi-Conductor, Energy, and Food and Beverage Processing have counted on our engineering expertise to turn their visions into reality, please contact an applications engineer at info@rotarysystems.com or call 800.959.0146.
---