Custom Rotating Unions for Steel Processing
Product Announcement from Rotary Systems, Inc.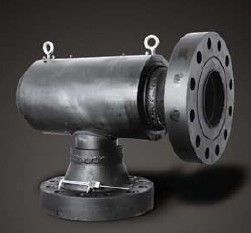 Rotating unions at impresive scale for the steel industry. Industry leader in custom rotating unions for all your rotary applications.
Single Passage High Pressure De-Scaling Rotary Union
Steel construction with 300# raised face flange connections
High pressure cooling water through rotary union
Roller bearings to support shaft in housing
Will custom design for specific replacement of existing rotary unions in the field
41.0" length, 23.0" diameter, 34.0" height, 2,300 lbs
Multiple Passage Ladle Turret Union for Continuous Casting Line
Custom 10 passage with code 61 flange connections
Water/Glycol, Air and Water through rotary union without cross contamination
Proprietary seal technology for extended seal life
Will custom design for specific replacement of existing rotary unions in the field
37.0" length, 20.0" diameter, 2,100 lbs
Typical Steel Applications for Rotary Unions
Multiple passage ladle turret unions
High pressure de-scaling joints
Desulferizing line joints
Coil processing joints
Galvanizing line joints
Pickling line joints
Cooling roll joints
Continuous casting joints
If you have a specific steel processing application, contact Rotary Systems at 800.959.0146 or email info@rotarysystems.com.
About Rotary Systems:
Rotary Systems is recognized for our innovative design and manufacturing capabilities in rotary unions and electrical slip rings. From our skilled engineers to our state-of-the-art facility to our incredible depth of knowledge, you can trust Rotary Systems to always deliver rotating unions and slip ring solutions designed and built to the highest standards possible. To learn more how engineers around the world, in limitless industries, including Automation, Defense, Offshore, Semi-Conductor, Energy, and Food and Beverage processing have counted on our engineering expertise to turn their visions into reality, please contact an applications engineer at info@rotarysystems.com or call 800.959.0146.
---