Mechanical Seal Coolant Unions
Product Announcement from Rotary Systems, Inc.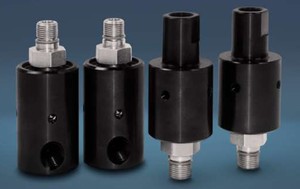 Mechanical Seal Coolant Unions are your new alternative for high speed, high pressure coolant applications.
Now you have a choice when it comes to high speed rotary unions for high pressure coolant or MQL machining. The 030 series unions are designed for long life with the following features:
Balanced Silicon Carbide to Silicon Carbide mechanical seals for long life
Precision radial contact ball bearings are flush ground for back to back mounting
Labyrinth system for bearing protection with tapped vent ports
Full flow design ensures minimal pressure drop
300 series stainless rotor and anodized aluminum housing for corrosion resistance
If you have a specific high speed, high pressure application, contact Rotary Systems at 800.959.0146 or email info@rotarysystems.com.
About Rotary Systems:
Rotary Systems is recognized for our innovative design and manufacturing capabilities in rotary unions and electrical slip rings. From our skilled engineers to our state-of-the-art facility to our incredible depth of knowledge, you can trust Rotary Systems to always deliver rotating unions and slip ring solutions designed and built to the highest standards possible. To learn more how engineers around the world, in limitless industries, including Automation, Defense, Offshore, Semi-Conductor, Energy, and Food and Beverage processing have counted on our engineering expertise to turn their visions into reality, please contact an applications engineer at info@rotarysystems.com or call 800.959.0146.
---